An Unconventional (Yet Beautiful) Way To Wear Flowers, C/O Giambattista Valli
WWD/Shutterstock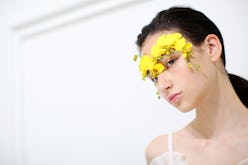 You've heard the groundbreaking "flowers for spring?" reference probably far too many times to even count, maybe even on this very vertical (what can I say? Devil Wears Prada is one of my favorites). But believe me when I say that Giambattista Valli's Spring 2020 beauty look was one that even Miranda Priestly would crack a smile at. Backstage at the Sept. 30 show, the MAC Cosmetics team (lead by artist Isamaya Ffrench) created one of the freshest looks to hit the runway this week — literally.
"Some of these girls have a draping of flowers that have been adorned to the face," Dominic Skinner, Global Senior Artist for MAC Cosmetics, tells me, noting that around seven out of the 50 models got the look. "We're talking about the idea of Monet and the idea of a girl taking a fresh morning leap into the lake. As she rises, the flowers get caught on her face."
A statement-making look like this requires a base of gorgeous, healthy skin, he notes. "It's a little illuminated with Mixing Medium Shine on the cheeks, and lip gloss on the eyes. The skin is perfected to a point where it's enough but not looking too much." Foundation was scarce here, too — Skinner notes that artists used the new Studio Fix Soft Matte Stick only where needed, employing a helpful trick: "Push it in with your thumb almost to mimic the skin," he says.
And unlike other shows, powder was of utmost importance here, too — especially around the nose, on the hairline, and a little on the jawline. It makes the cheeks and eyes look really wet, for one, but it also helps create the texture needed to keep the fresh flowers stuck on the skin. "We're mattifying the skin where flowers go, and using a mixture of adhesives. Lash glue is easy for the soft, gentle, and light flowers. The heavier and bigger flowers need special effects glues meant for prosthetics."
Eyelashes weren't of huge importance, here — in fact, they've been pretty hit or miss in all cities this season — but if you were to try this at home, Skinner suggests using a bit of waterproof mascara for emphasis. He also has a helpful trick for glossy lids, too: "Do it from your lashes to the brow. Don't do it under the eye. Otherwise, it'll look like you got into a fight with your partner and spent the night crying," he says.
As for how the types of flowers were chosen for each model, Skinner jokes that the decision was above his pay grade — but notes that the flowers specifically chosen to work with the collection. This speaks to the fact of the blooms being the main attraction in all aspects of the show. "To be fair, [the glam] is about the makeup," lead hairstylist Anthony Turner tells me. "For me, today is more about how to convey certain type of strength and androgyny in hair. We wanted to do something to convey that strength and add touch of sexiness without distracting from everything else." (The one product to help achieve this, he says, is L'Oreal Elnett Strong Hold Volume Foam Cream.)
The strong and beautiful look is one that serves as punctuation to a season full of extremes — because honestly, who wouldn't want to look at this for 20 minutes? "It's poetic, it's artistic, and it's serene. It's elegant — and a nice way to finish Paris Fashion Week," Skinner says.