The Most Luxurious Frette Sheet Set Is 60 Percent Off In This Massive Year-End Sale
Frette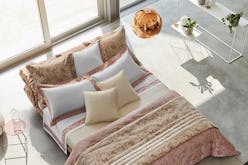 The holiday season is nearing an end and, sadly, the widespread end-of-season home decor sales are leaving with it. But before you let your wallet take a breather, there is one more home goods sale that might surprise you: Frette, the Italian bedding company known for crafting some of the most luxurious sheets in the world, is jumping into the holiday sale fray. For a limited time, the Frette sheet sale is offering an additional 20 percent off of select styles from its sale section.
Frette marked which styles are included in the year-end sale: Though it's hard to find on every page, look under or near the product descriptions for a phrase marking that the piece you want is included in the 20 percent off sale. No promo code is necessary and any additional savings are included before you checkout, so your total will reflect any deal the site is offering.
Seven unique styles from Frette's Spring/Summer 2018 line are on sale. The 2018 line covers a range of aesthetic preferences and color palettes, with the feminine, bohemian bedding of the Romantic Aura collection summing up why people keep coming back to Frette. Besides each pretty piece of the set stylish enough to stand on its own, you can see the in-depth thought designers put into how the bedding would intricately weave contrasting textures, negative space, and colors once someone made their bed. Originally $1,700 for the California king size, the sheet set is on sale for $850 — and luckily the 20 percent off sale applies to it, marking down the sheet set further to $680.
Sometimes, though, you just want white sheets. The high-quality, classic white Frette sheet sets the brand does so well can be found for up to 60 percent off, like the Damascus Border set. A queen-sized version originally retailed for $1,500, and with the additional discount on top of the sale price, the price is $600.
Below, seven different Frette sheet sets and bedding pieces to consider before the sale ends. The high-end bed linens are an investment you definitely don't want to miss.