Frette's Luxurious Sheets Are Marked Way, Way Down In This Huge Outlet Sale
Frette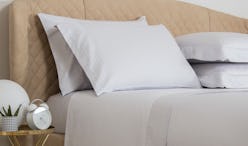 It's no exaggeration that upgrading to Frette's linens may make it feel like you're sleeping in the world's most luxurious bed. The Italian company has been creating high-end textiles since the 1860s, even providing linens for the Italian Royal Family and St. Peter's Basilica. It actually may be a bit of an understatement to say that the Frette outlet sale – with prices on sheets, pillows, and more up to 80 percent off – is a pretty big deal.
Sleeping like a royal comes with a cost, with the majority of Frette's sheet sets normally retailing for over $1000. But sets are on steep discount during the four-day-only online outlet sale, like this dreamy, champagne-colored Ingrid queen-size set down from $1200 to $360. The Terragona Border set in cobalt is one of the best deals for adding a splash of color to your bedding, marked down from $1250 to $250 for the queen size.
Turning your home into one of the five-star hotels Frette outfits is easier than ever, since selections from its luxe lines of duvets, pillowcases, blankets, and bath products are also included in this sale. Wrapping up in the Lanes Border Bath Towel after a long bath will feel like a spa-level indulgence, and it's on sale at $23 from $75. And since cuddling under a fluffy duvet is one of the best parts of sleeping in a luxury hotel, invest in the queen-sized Livia Down Duvet Filler, on sale at $240 from $800.
A handful of the best deals on sheets, pillows, and more from the Frette online outlet sale are below to add to your cart before the sale comes to an end.