This Insta-Famous Store Is Bringing Its Unique Take On Classic Pieces To Net-A-Porter
Courtesy of The Frankie Shop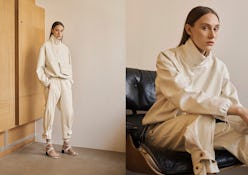 Discovering Frankie Shop is like being gifted the missing piece to your wardrobe's puzzle. Regardless if that piece may be an architectural, oversized blazer or a cargo jumpsuit you spotted on Instagram last week — chances are, something you're coveting for your own closet may be waiting for you at the retailer. So, it only makes sense that Frankie Shop's Net-a-Porter collection — a first for the brand — will feature a versatile selection from its Spring 2019 offering. And while joining the immensely popular online boutique is a reason to celebrate on its own, the capsule will also serve as a way to introduce Net-a-Porter's shoppers to the feminine, utilitarian world that is Frankie Shop; and it's a safe bet that they'll join the retailer's ever-growing fanbase, too.
Debuting May 31, the Net-a-Porter capsule collection will range from $80 to $510, and offer many of the styles that helped land Frankie Shop a spot in the fashion community's collective style book; like its belted utility jumpsuits, at-the-knee Bermuda shorts, and countless takes on the traditional blazer. The pieces weave together the story of the brand: It appears to be effortlessly on-trend.
In the sense that browsing Frankie Shop's online store feels like scrolling through your own IG feed. The retailer understands — and delivers — the kind of updated workwear that's become a must-have this season. On top of that, it feels relentlessly authentic in the pursuit. It seems like even if blazers weren't in right now, Frankie Shop would be reimagining them anyway. And really, that's its goal. "I'm not pretending to reinvent the wheel; to me the goal of Frankie's collection is to always offer the classics you need, but with a modern twist," Frankie Shop's owner, Gaelle Drevet, tells TZR in an email.
The Frankie Shop aesthetic dives deeper than its own clothing line, too. With brick-and-mortar locations in New York City and Paris, the online store stocks pieces from other brands like By Far, Rachel Comey, and GANNI. It's a move that elevates the store from brand to fashion destination — something helped by owner Gaelle Drevet's own sense of style. A self-defined "sporty chic" dresser, Drevet's eye for modern suiting appears to be skillfully reflected in her brand.
Courtesy of The Frankie Shop
Courtesy of The Frankie Shop
Frankie Shop's capsule collection premieres on Net-a-Porter late May. Make sure you keep an eye on the store's website — or go ahead and take a peek at Frankie Shop's online selection if you just can't wait.
Editor's note: This post has been updated from its original version.