ColourPop's Sister Brand Created The Perfect Skincare Duo For Glowing Skin (& It's Seriously Affordable)
Fourth Ray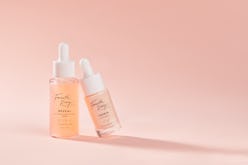 ColourPop is a favorite amongst beauty lovers, and for very good reason — its makeup is considered high quality, but the prices are always affordable. Not to mention, the brand consistently keeps fans excited by frequently rolling out new products and collections to enjoy. And it looks like ColourPop's sister skincare brand, Fourth Ray, is hopping on that same train. Fourth Ray's new Renew Skin Refining Duo, which consists of The Reveal 10% Alpha Hydroxy Acid Serum and Papaya Face Milk, just launched — and, true to form, it rings in at an affordable $22.
Fourth Ray was introduced in August 2018 as ColourPop's skincare counterpart, but the brands have distinct differences. While ColourPop uses bright colors and punchy names for its products, Fourth Ray takes on a simpler approach. The products on the site are no-frills and minimalist, and they clearly communicate their purpose and ingredients in the names. Fourth Ray also puts its cruelty free and clean beauty values at the forefront of its marketing, emphasizing that the products are vegan and formulated without parabens or harsh chemicals.
The one thing that ColourPop has extended over to its sister brand, though, is the idea of selling quality products at a reasonable price, with its individual skincare products ranging from $8 to $15. "We wanted to redefine and disrupt the luxury skincare space by delivering effective, clean products at accessible price points," Megan Lind, the product development manager at SEED Beauty (aka Fourth Ray and ColourPop's parent company), tells The Zoe Report over email.
The brand's newest products definitely embody all of these ideals — and they aim to give you clear, bouncy summer skin. The Reveal 10% Alpha Hydroxy Acid Serum, one part of the new duo, is a chemical exfoliant with lactic and glycolic acid, which Lind says is great for brightening and smoothing skin. "As we age, skin appears duller and less vibrant over time," she says. "Exfoliating acids, including alpha hydroxy acids, can help combat this to reveal softer, more youthful-looking skin."
The serum also includes pomegranate and strawberry enzymes for skin clarity and radiance, alongside moisturizing hyaluronic acid. Lind explains that the enzymes further support the exfoliating process, while the hyaluronic acid helps skin feel supple and smooth. (The brand also posted an Instagram with a handy visual explainer to break this down even more.) And while a serum with a combination of three potent, fast-acting acids can easily run you $50 or more, Fourth Ray's version is only $15.
Rounding out the duo is the Papaya Face Milk, which left Instagram followers wondering what a face milk is, exactly. But according to Fourth Ray's response to the question on the platform, it's not as complicated as it sounds — it's simply "a hybrid between an oil and a cream" that "provides lightweight, fast-absorbing moisture."
According to Lind, this particular face milk is comprised of the fruit's enzymes and oil. "We use both papaya enzymes and papaya oil to renew and replenish skin so it looks and feels its best," says Lind. "We also include white tea since it's known to provide an antioxidant boost and white lily milk to further moisturize and condition skin." And this product will cost you even less — it retails for just $10.
Shop the Reveal 10% AHA Serum and Papaya Face Milk below individually, or purchase them as a duo for only $22.