Floral Street's Cult-Favorite Fragrances Are Now Available In The U.S. — Here's Where To Buy Them
Courtesy of Floral Street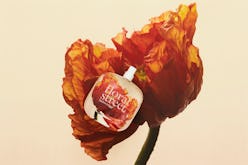 How frustrating is it to hear about something so fantastic, so game-changing, and so cult-adored, only to determine you've got no possible way to get your hands on it? Such is often the case with holy grail beauty buys from overseas, which haven't yet made the jump stateside to grace the shelves of American beauty buffs. And one uber-popular UK fragrance brand used to fall under that category — until now. Floral Street is available at Sephora, so get ready for a fragrance free-for-all as fellow perfume aficionados clamor for their favorite scents at the staple beauty store. And you'll want to get in on it, too.
Modern English fragrance collection Floral Street has some major news: After becoming cult-loved across Europe and Australia within two years of its debut it's finally taking the leap across the pond, much to stateside perfume lovers' excitement. And their unbridled joy is entirely warranted, considering this brand's collection of nine unique floral scents are unlike any you've spritzed before (seriously). They're feminine, flirty, fresh, and everything you'd expect in a flower-based fragrance, plus a whole lot more thanks to Floral Street's sustainable business model, responsibly sourced ingredients, and modern approach to aromatic combinations.
Each of Floral Street's nine innovative fragrances are now up for grabs on Sephora's website and will land in select Sephora stores beginning Sept. 1, meaning you can finally explore the brand's adventurous scents for yourself. The non-traditional floral aromatic arrangements, which are completely vegan and come in earth-friendly biodegradable boxes, are up for grabs in stunning statement-making 50 milliliter glass bottles, $75, on-the-go travel sprays, $26, and even a $19 Floral Street Discovery Set (ideal if you couldn't possibly decide on just one to sample). And another thing that sets Floral Street apart? Its fragrances contain 20 percent perfume oil, a higher concentration than many other scents, meaning a little goes a long way and lingers on skin throughout the day.
Whether you're feeling rebellious, lighthearted, bold, or romantic, there's likely a Floral Street perfume you'll find to fit the bill. Try Black Lotus, an edgy scent that turns the traditional rose on its head, if you want to jump out of your comfort zone in the coolest way, or opt for Ylang Ylang Espresso to experience an unexpectedly harmonious blend of sweet florals and fresh-brewed coffee. Can't get enough of honeyed, heady blooms? Try Chypre Sublime for a floral explosion. Pick London Poppy if you want a perfume that's striking and bold, yet light and airy.
Intrigued enough to try the fragrances that beauty buffs the world over can't stop raving about? Keep scrolling to explore all nine Floral Street eau de parfums from Sephora, below.