FENTY's First Collection Is Officially Shoppable — Here's What To Add To Cart ASAP
FENTY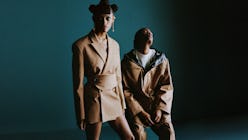 When the entire world is watching, how do you begin a legacy? FENTY's Release 5-19 collection — the very first from Rihanna's much-anticipated fashion line — gives the community at large a look into how to create a cohesive brand DNA from scratch, and what it means to be a modern fashion house. Officially available as of May 29, Release 5-19 has already bucked one luxury tradition: It's seemingly not at all themed around a particular season.
In fact, the Release 5-19 collection appears to be ready for any weather. FENTY offers up a thick, $1,360 reversible parka and and barely-there $360 denim corset skirt in the same breath. (Which, by the way, will be a piece you see worn over and over on Instagram; calling it now.) And while this opens up Release 5-19 to a wider market — including international shoppers that may need a parka in August — it also zeroes into what appears to be a core element of FENTY's debut: tailored layering.
One of the campaign's hero looks is FENTY's $990 Corset Dress worn over what appears to be the $600 Croissant-Sleeved Shirt; FENTY's official Instagram used the look to announce the collection's drop. The voluminous sleeves perfectly balance the short hemline of the skirt, and contribute a silhouette chased by the shoulder pads of days gone by — strong, shapely, and authoritative. It flows like an extension of Kwame Brathwaite's work, an artist and documentarian who helped popularize the Black Is Beautiful movement and a source of inspiration to the FENTY collection.
Beyond the overall aesthetic created by FENTY, there are details that'll delight the fashion follower. A loose (yet tailored) blazer dress here, a sculptural, thigh-exposing cutout there — these pieces show shoppers that FENTY has its finger on the community's collective pulse. That even if you don't find yourself reaching for your wallet this time, you should keep an eye on the house in the future. It's an inaugural collection that creates a permanent space for itself; FENTY is here to play.
Though, truthfully, you may find yourself adding as much as you can of FENTY's new collection to your shopping cart. It's luxurious clothing that's as wearable as it is sultry; with FENTY, Rihanna tapped into the vein of what makes a modern woman tick, and found what she wants to wear to the office and on the weekend — and it feels good to see.
Ahead, nine pieces from the Release 5-19 collection to shop.