FENTY's New R11-19 Collection Confirms This Pastel Shade Is Fall's Biggest Color Trend
Courtesy of Fenty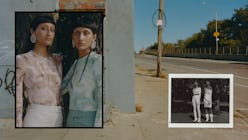 Rihanna is the ultimate power woman. And as prime example of her non-conformist attitude, the mogul's latest FENTY collection: Release 11-19: City Bloom (R11-19), is inspired by the everyday style of women that are as comfortable in their softness as they are in their strength — and aren't afraid to redefine what it means to be feminine. Yep, that sounds like RiRi.
This new offering features the singer-turned-designer's signature styling aesthetic, with pieces that are meant to be as effortless as they are chic. Designed with easy dressing in mind, the new lineup includes both ready-to-wear and accessories, all of which come in a range of pastel hues that can be seamlessly incorporated into your wardrobe — no matter what your stance is on wearing color. The fresh palette includes a soft shade of green the brand has so cleverly, dubbed "Matcha", which falls right in line with the pistachio color trend for fall 2019.
Among the collection's star shades are cheeky hues such as "Iced Rose" and "Crème Caramel", which are also named after items that relate more to your coffee order, than pieces in your wardrobe. However, in true FENTY fashion, the lineup itself consists of ultra chic silhouettes that balance out the more adventurous details.
For example, if you're looking to embrace this season's puffer trend, but the sporty coat isn't necessarily your thing, this new drop puts a fun twist on a closet staple, featuring a padded stiletto boot for $990, that has (almost) all of the same features found on the classic outerwear design. Not to mention, the slouchy style is a great pairing for both the rose-print mini, $550, and the off-the-shoulder sweater dress, $1,160.
In a sea of ready-to-wear is an equally as stunning accessory assortment, which includes sleek marbled sunglasses (all priced at $250). But it's the brand's new Cameo collection that deserves a spot on your shopping list, as this offering presents an updated version of the ancient jewelry craft that depicts the profile of the FENTY girl. Available in both crystals and pearls, the cameo earrings, $530, have an oversized shape that pairs well with the pendant brooch that can be worn as both
As for the R11-19's artful campaign, it was shot and inspired by Japanese photographer Katsu Naito, who is known best for covering the essence of Harlem in the '90s. And for FENTY's latest lookbook, Naito perfectly captured the hectic lifestyle of the well-dressed woman to align with the collection's overarching theme.
Available now on Fenty.com, TZR has rounded up select styles from R11-19 for you to shop ahead. But if you find that your picks are sold out on the brand's website, now, be sure to mark your calendars for Nov. 25, when the collection arrives at Selfridges for you to peruse in person.