Fenty Beauty Sun Stalk'r Instant Warmth Bronzer Gives Me Great Glow: Review
Photo By Fenty Beauty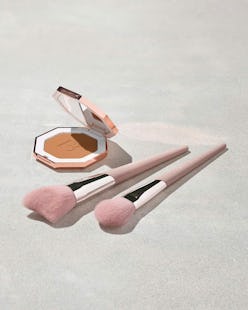 I like bronzer... like, really like bronzer. It's been a staple in my routine for years now. I wore it every day of my senior year of high school and as a result, received the superlative of Best Makeup my senior year. But back then, it was hard to find a shade that matched perfectly with my olive, medium-toned skin. It's still a struggle that I experience today, and I've got the failed swatch selfies to prove it — which is why I was so excited for the launch of Fenty Beauty By Rihanna Sun Stalk'r Instant Warmth Bronzer.
Not only did I find ample shades for myself, but there are shades for fairer and deeper skin, too. Rihanna, being the goddess she is, wanted to prove that "bronzer isn't one shade fits all," per a Fenty Beauty Instagram post — a complaint that I've heard from my friends with dark skin. She and her team took over two years to "develop the perfect bronzer that brings out the right pigments for a natural warmth and glow on all skin tones." Turns out that the right shade is all about the undertones... so Sun Stalk'r Instant Warmth Bronzer offers eight shades (Inda Sun, Private Island, Shady Biz, I$land Ting, Bajan Gyal, Caramel Cutie, Coco Naughty, and Mocha Mami) that cater to both neutral and warm.
With the weather finally feeling like spring and my birthday weekend approaching, I figured that there was no better time than to give a few shades a true test run. See how I wore them ahead.
Sun Stalk'r Instant Warmth Bronzer In Shady Biz
I thought that Shady Biz, a light shade with warm undertones, would be a bit dark for my skin tone, but it added the best glow. It made my complexion really warm up and helped me to not look so tired and flushed out — a grand feat, after running around and chasing my three-year-old daughter. I applied Shady Biz with the Cheek-Hugging Bronzer Brush, which functions as a supersized Cheek-Hugging Highlight Brush, and have never experienced such soft and smooth application. I only had to run the brush along the compact once, and it was enough pigment for me.
Sun Stalk'r Instant Warmth Bronzer In Private Island
Private Island, a light to medium shade with warm undertones, was a bit too dark for me, so I'll put it on reserve until my summer tan is ready. I love the sandy, golden glow that this one gives. It's creamy, soft to the touch, and makes defining my cheeks super easy (and dramatically).
Sun Stalk'r Instant Warmth Bronzer In Inda Sun
Inda Sun, a fair shade with neutral undertones, is the closest to my match. I love the natural glow that it gave me. I used the Sculpting Bronzer Brush to apply this one, and started from the top of my eye down my cheek, making a small C shape while applying. I also used a few strokes to the bridge of my nose for a soft contour.
Sun Stalk'r Instant Warmth Bronzer In Bajan Gyal
Bajan Gyal, a tan shade with warm undertones, is also is a personal favorite. I loved the instant radiance and lift that it gave my cheeks. It evened out my skin tone, too, which eliminated the need for a heavy concealer and color correcting primers. I also used the Sculpting Bronzer Brush here, and I noticed that my application was so precise and easy... the perfect birthday present.