This Is When You Can Shop Fendi's New Sunglasses Collab (& You're Going To Want To ASAP)
Gentle Monster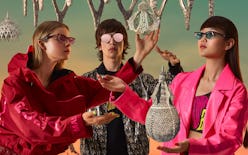 With summer just around the corner, it's the perfect time for a new ultra-chic eyewear collaboration to hit the fashion scene. And as luck would have it, one just did. Korean eyewear brand, Gentle Monster, is dipping its feet in the luxury market in a new partnership with Italian fashion house, Fendi, so mark your calendars for May 7 — the date of the official launch of the Gentle Monster x Fendi collaboration, Gentle Fendi.
The capsule draws inspiration from both brands, incorporating the unique designs from Gentle Monster and the craftsmanship of Fendi, to create two unisex sunglasses, each in three color ways.
The first of the two styles is named Gentle Fendi 01, which is a cat-eye style that WWD reports will be available in black, blue, and pink (and has already been spotted on model Kaia Gerber). Gentle Fendi 02, the collaboration's other style, comes in the form of an oversized aviator, and will be available in khaki, orange, and yellow, according to WWD.
Not sure which to choose? While both frames are similar in their futuristic appearance, the 02 style is arguably a bit more subtle. The 01 style, though chic, leans heavily into logomania, with Fendi's logo displayed prominently on the front of the sunglasses. The 02 style, in contrast, forgoes that for a smaller logo printed on the side.
And naturally, the campaign is equally as cool as the actual collab. According to Gentle Monster's website, the Gentle Fendi Collection Campaign was directed by Russian artist collective AES+F, and feels just as otherworldly as the sunglasses themselves.
Never heard of Gentle Monster? The brand is based out of Korea and was founded by Hankook Kim in 2011, with an aesthetic that could be described as quirky and playful. In addition to its avant-garde sunglasses, the brand also carries eyeglasses, with prices on its site ranging from $190 to $360.
Fans of the collab will be able to do more than just shop the new sunglasses post-launch, though. The brands are coming together to make this collection truly come to life with a Gentle Fendi Café in Seoul, which is open to visitors from May 8 through July 28 and will feature "four concept desserts, along with an original 'GENTLE FENDI Gelato Bar' from Italy," according to Gentle Monster's site.
You'll be able to snag these styles on Gentle Monster's website, Gentle Monster stores, and select Fendi boutiques starting May 7 at 12 p.m. KST. And until then, you can watch the countdown here until it drops — because this is a collab you don't want to sleep on.