This Motion-Activated Skincare Product Works Better The More You Sweat
Courtesy of FaceGym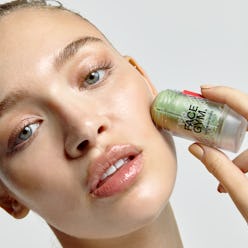 What if working up a sweat helped your skincare products instead of ruining them? That's the concept behind the FaceGym Training Sticks, four all-new, multipurpose skincare products from the revolutionary skincare-meets-fitness brand, FaceGym. And since that's a bit of a mouthful, enter the term ath-beauty — a portmanteau of athleisure and beauty that's become a lifestyle for its followers.
OK, there's a lot to unpack here if you're completely new to FaceGym as a concept. With locations in NYC and the UK, FaceGym is exactly what it sounds like: It's a gym for your face. The "workouts" include non-invasive techniques that target 40 muscles in the face, stimulating glow-enhancing blood flow and collagen production. Besides the in-studio sessions, FaceGym also offers a variety of skincare products ranging from the familiar (like the $65 Signature Training Serum) to the never-before-seen (like the $22 Face Ball, a yoga ball for your face).
Got all that? Good — the Training Sticks will make way more sense now. Retailing at $49 per stick, the workout-activated skincare product comes in one of four varieties: brightening Brazilian pink clay, detoxifying charcoal, hydrating multi-vitamin, and elasticity-boosting spirulina. No matter which one you choose, each stick is formulated with MyoSKNFIT, an ingredient that's activated by heat and moisture — aka two things your face produces while you're sweating during your morning jog.
"Ath-beauty has already shaken the beauty world in a superficial sense, but the sector is yet to see skincare that is physically triggered by exercise," reads a quote by FaceGym's founder Inge Theron in a press email. "As a mother of two under five, I have a small window of time to dedicate to myself. I didn't want to sacrifice a facial for a workout or vice versa so I created something which targeted both at once."
It was a long time coming, too. "We've been working on our MyoSKNFIT formulation for over three years," Theron added. "And although FaceGym has always championed the ath-beauty category we're so excited to disrupt the industry by introducing a new category in skincare with our next generation Training Sticks."
And the more you sweat, the better the Training Sticks perform. Even after you cleanse your face post-workout, the Training Stick will keep up its pace; the formulas' skin-loving ingredients continue to revitalize your face up to 6 hours after they're first used.
Ready to get in on the ath-beauty movement? Shop all four FaceGym Training Sticks below.