Everlane's About To Make This Summer Trend A Staple In Your Closet
Courtesy of Everlane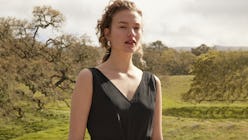 There seems to be very little that's fast about Everlane's fashion. When the sustainable clothing brand does let shoppers peak behind its curtain — which happens often, since it espouses "radical transparency" — they'll find meticulous, calculated details. Everything from how a fabric breathes to suppliers' own energy habits seem to be considered by the brand before launching a piece. So, when Everlane's new jumpsuits arrived online May 15, it almost seemed like the brand was moving fast. Almost.
Because, as you undoubtedly know, jumpsuits (and their long-sleeved cousin, the boiler suit) have become a major trend to watch in 2019. It's one that's easy to get behind: It's pants and a top, rolled into one. But much to the delight of Everlane's fanbase, there is nothing quick — or forgettable — about the brand's take on the trending piece. Everlane doesn't just want you to wear one of its new jumpsuits in a single Instagram pic, then abandon it in the back of your closet; the brand launched its three new jumpsuits (along with other pieces from its Summer 2019 collection) on a page titled "The Every (Occasion) Shop." And on the page, Everlane lists a handful of occasions it thinks you should wear the jumpsuits — like receptions, brunches, wine bars, and vacations.
To up the jumpsuits' versatility, Everlane stuck to solid, easy-to-wear colors like light olive, pale blue, and black. Everlane also rolled out three separate takes on the jumpsuit, one made from 100 percent linen, the other two from Everlane's GoWeave fabric. That variable seems to change up the price point of each piece: The sleeveless Japanese GoWeave Essential Jumpsuit and Japanese GoWeave Short-Sleeve Jumpsuit retail for $120 and $130 respectively, while The Linen Jumpsuit will cost shoppers just $88.
Shoppers who plan on taking their new jumpsuits with them everywhere they go may want to splurge on the GoWeave fabric pieces, though. Everlane advertises the fabric as smooth and wrinkle resistant; meaning you can toss it into your suitcase and not worry about hanging it up as soon as you reach your hotel room.
The only downside to the new jumpsuits? Picking which color (and fabric) you're going to make a staple in your closet this summer. Ahead, a colorway from each new jumpsuit to consider.