This Beauty Brand Wants You To Try Jade Rollers On Your Body Now, Too
Courtesy of Esker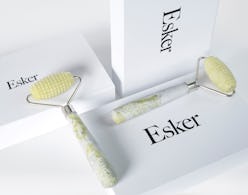 As far as beauty tools go, nothing has taken the world by storm in recent years quite like the jade roller. The skin-firming, glow-inducing tool has proven to be as practical as it is pretty, earning a spot on vanities and beauty shelves all over. With its widespread popularity, it was only a matter of time before someone would take the facial roller to the next level. And as it turns out, that time is now. Esker's Allover Roller is the newest way to work the massage tool into your routine — but this time, it's all about giving the rest of your body some much-needed TLC.
New-to-the-scene body care brand Esker knows a thing or two about giving your skin exactly what it needs. The line burst into the beauty world in 2018 with a range of naturally-derived body oils focused on bringing your skin specific benefits from head to toe (why should your face get all the glow, after all). So it only makes sense that the same company would take a cult-loved self care tool, the jade roller, and make it into something that benefits your bod.
Esker's brand-new Allover Roller, $65 and now available on the brand's site and coming soon to Net-a-Porter, is a super-sized iteration of the beloved skin care tool that has been designed specifically for stimulating the skin on your body. The new launch is crafted from Xiuyan jade and stainless steel, with a 7-inch by 3.25-inch textured, solid jade massage roller that'll help your lymphatic system detox your body and encourage skin cell regeneration. Plus, it'll help your body oil or lotion soak deeper into your skin for more effective hydration and moisture retention.
Just as with a traditional facial jade roller, use light to medium pressure to roll the extra large tool across your neck, chest, shoulders, arms, legs, torso, and even the bottoms of your feet. You should feel immediately soothed as the massage releases tension and boosts circulation, and skin will look bright and glowing after each treatment.
With commitment to this self-massage ritual, you'll see firmer, more toned skin over time — and you'll feel a whole lot more zen since you're putting aside a dedicated moment just for self-care. Pro tip: Use the Allover Roller immediately after showering or bathing, because your body products will be able to penetrate even deeper into skin while pores are still open from exposure to the warm water.
Ready to seriously upgrade your body care routine? Snag Esker's new super-sized massage tool, below.