This New 5-Minute Face Mask Relies On A Very Unique Ingredient
Courtesy of Erborian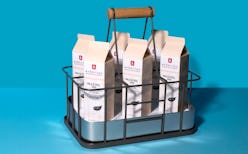 As you're well aware, it's 2020 — and if you asked beauty fans which type of milk they thought would be included in Erborian's new Milk & Peel collection, you'd get a variety of answers. Still, few would probably be correct. Released on the beauty brand's own website Jan. 8, the brand-new, two-piece collection taps into one of the latest and greatest non-dairy milk alternatives: vitamin-rich sesame milk.
But as far as skin care is concerned, Erborian points to the plant-derived ingredient as a natural source of hydration and exfoliation — noting in the product description that the alt-milk resurfaces your skin, thus evening out its texture. "We'll go ahead and say it's your new super ingredient duo you never knew you needed," the brand wrote in an Instagram post debuting the new skincare collection. "Harnessing the widely unknown benefits of sesame milk, oil and enzymes, this power pair helps to gently exfoliate while nourishing the skin."
The collection's two new products go hand in hand, too. The $28 Milk & Peel Balm is your daily solution, cleansing and exfoliating your skin in one swoop. The formula has an oil-in-balm texture that delicately removes makeup while enriching your skin with sunflower seed oil and multiple natural extracts (appropriately called Erborian's 7 Herbs Complex).
Meanwhile, the $32 Milk & Peel Mask is more of a special occasion treat — its description notes that you only have to use it one or two times per week. Even more impressive, the rich mask only needs to be left on for 5 minutes. Its sesame milk- and oil-infused formula includes Kaolin clay on top of a ferment and the 7 Herbs Complex, as well.
Wondering where you've heard of the beauty brand Erborian's name before? The French-Korean brand is the creator of an immensely popular CC Crème, besides being stocked at both Sephora and Ulta — the latter of which will soon be carrying both new products from the Milk & Peel collection. Until they arrive at Ulta at the end of January, you can shop the brand-new duo on Erborian's website by scrolling down.