Emma Stone Can't Stop Wearing This 'Ugly' Trend
Steven Ferdman/Getty Images Entertainment/Getty Images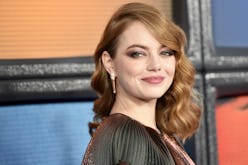 No matter how timeless a floral print might seem, not all florals are considered to be fashionable, per se. The botanical trend has evolved over time, and some vintage versions of it read a little outdated. Even though Emma Stone's floral prints might not look modern on their own, she has a knack for styling them in the chicest way.
The La La Land actor is certainly no stranger to a bold print. Lately, however, she's been wearing patterns that could trigger flashbacks to sitting on your grandmother's sofa as a kid. While designers are embroidering dainty flowers onto black backgrounds and the like, Stone has taken a liking to the bold, sprawling prints of bygone days.
Clashing colors, oversized roses on metallic fabric, and — wait for it — birds: these have been the themes of Stone's recent outfits. If you had come across her latest pieces hanging in a vintage boutique, you likely wouldn't give them the time of day — but the way Stone wears them will change your mind. Ahead, three times Stone pulled off an "ugly" print and how you can style them, too.
Flowy Maxi
On Jan. 5, the actor debuted probably the first cockatoo print to ever appear on a red carpet. Her high-neck, burgundy maxi dress was adorned with orange and blue birds. Sound similar to your granny's favorite frock? It was. In the best possible way, of course. Get yourself an elevated version of this dated print, ahead.
Clashing Top & Pants
The only thing bolder than an "ugly" floral is wearing two "ugly" florals together. Stone sported a metallic silver top and trouser combo to the Palm Springs International Film Festival Gala. The look featured purple flowers on top and clashing blue on the bottom, separated by a sleek black belt around the waist.
Printed Blouse
Even on this Golden Globe winner's days off, she still finds ways to incorporate her favorite retro prints. In Oct., for instance, she was spotted in New York wearing an orange and pink floral blouse tucked into black culottes. It was the easiest and subtlest way to style the trend.