Emma Roberts' Floral Romper Will Make Saying Goodbye To Summer Even Harder
Emma McIntyre/Getty Images Entertainment/Getty Images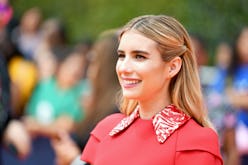 It won't be long before you're sipping PSLs and wearing your favorite cashmere sweater again, but for now let's just revel in the bliss of another hot, sticky day and observe Emma Roberts' floral romper in wonder. Because despite the pumpkins and haybales sitting outside your neighborhood grocery store, summer is far from over. There's still plenty of sun left for miniskirts and garden prints, so go ahead and wear them without reserve.
As thick and miserable as the humidity can get, this sweat-inducing season is always a hard one to bid goodbye to. It probably has something to do with the fun clothes — bold colors, playful prints, cropped silhouettes — that don't typically have a place in your winter wardrobe.
The lavender romper Roberts wore on Thurs. is one of them. You won't see the actor wearing this peasant-esque one piece with a retro red lip and matching Sarah Flint loafers, nor those immensely cool, old-Hollywood purple-framed sunnies any other time of year.
This, rather, is a one-time thing. Roberts trading in her grungy graphic tees for girly florals is a moment worth basking in.
Her floral romper — the Penelope by Endless Summer — features a square neckline, puffy sleeves, and pleated shorts that almost give the impression that it's a dress. She sported it with a black Fendi bag draped over her arm and latte in-hand.
Sadly, the days for short-cut silhouettes and botanical prints like this are numbered. Skin-covering knits and layer-able pieces are already beginning to hit the scene. Even Roberts, who lives in sunny Southern California, will soon be trading out her shorts for sherpa-lined jackets and suede (her favorite).
For now, though, she's all about the breezy florals, sporting a white, flower-print maxi just a few days before, as well as a similar one with short sleeves just a few days before that. So, you see, a pretty botanical-themed mini might be just the thing you need to spend your last few weeks of summer in.
In case you don't already have one, Emma Roberts' and a few other options to kick off your collection, ahead.
Shop The Look