Emily Ratajkowski Debuted A Bold New Hair Color & Looks So Different
Chelsea Lauren/WWD/Shutterstock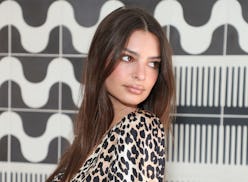 There was one color in particular that dominated the runways of Spring/Summer Fashion Weeks and it was pink. Just about every designer sent their models down the catwalk covered in the ultra-feminine cotton-candy hue, and now some people (ahem, EmRata) are taking the trend beyond just clothes. Emily Ratajkowski is the latest sporting pink hair.
The model has only ever strayed from her signature chestnut shade for the occasional Dolly Parton wig (a result of her recent trip to Texas) and maybe a highlight here and there. But on Weds., her makeup artist, Hung Vanngo, posted an Instgram of Ratajkowski in full-on rose gold hair.
Before you get too excited over the new look, though, remember that the likelihood of EmRata's new rocker chic look being permanent is next to none. Some models change their hair color about as often as they change their clothes, and Ratajkowski has fooled her fans before.
In 2017, she posted a photo of her hot-pink lob with bangs, but she was back to being a brunette the very next day. This time, Vanngo's Instagram post shows EmRata in long, pastel-pink waves parted down the middle. The model wore shimmery coral eyeshadow and a matching pout.
The makeup artist tagged hairstylist Dimitri Giannetos in the photo, as well as LOVE Magazine, a bi-annual fashion publication from EmRata's home city of London. In fact, the model has been featured wearing wigs in this British magazine before.
In 2015, Ratajkowski did a photoshoot with LOVE wearing blunt bobs with bangs in bright pink and blue. The magazine must have loved it so much that they're recreating it four years later with an updated look.
But just because the 27-year-old's blush-colored hair is temporary doesn't mean it's not worth copying. The ever-popular rose gold trend of 2018 is apparently still in full swing because fashion girls are still demanding candy-colored dye jobs from their hairstylists a year later.
In the past few months, Hailey Baldwin and Behati Prinsloo have both debuted pink hair like Ratajkowski's. Before that, Khloe Kardashian tried out pale-pink highlights and Bella Hadid took the trend for a spin at Dior Homme's Tokyo show in Dec.
The experts are predicting yet another big year for rose gold hair, too. Models for Marc Jacobs, Matty Bovan, Ashley Williams, and Nicopanda walked the runway in bright-pink hair during Spring/Summer 2019 Fashion Week. Perhaps it's time for you to cave into the fun fad — if even for only a day — once and for all.