This Emerging Jewelry Brand Is Putting Deadstock Pearls To Use For Valentine's Day
COURTESY OF PATTARAPHAN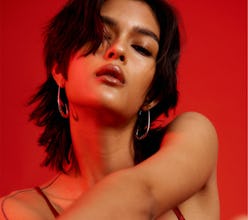 Minimalist style is having a moment and the same can be said in the jewelry realm. While costume pieces can certainly excite an outfit, less provocative pieces are just as fun. As proven by new jewelry brand, Pattaraphan. With a knack for simple yet prominent designs, the Thai brand is ready to show you what your accessories collection has been missing with a brand new unisex Valentine's line, which is available now.
Pattaraphan (Nok) Salirathavibhaga is the designer and mastermind behind the eponymous brand — her name translating to "beautiful skin" in Thai. Translating her affinity for edgy city fashion into hardware since 2018, her highly coveted lines include architectural ear cuffs and chunky link chains that have become a brand signature and already made quite the editorial debut. With other unconventional motifs like fishing hooks as earrings and femur bones for chain links, the designer is gifted in cooking up mundane themes into major statements.
You've most likely seen the label's soda can tabs being sported all over your Instagram feed; The Thai brands 'Pressure' collection uses the well-known motif to illustrate how minimalism can still make a statement. The added beauty of simplicity in this hardware is high versatility. Meaning, each product is flexible enough to fit with a high-glam ensemble or a more mundane daily street look just as well. And because the brand uses high-quality materials you can expect these to live as forever pieces in your jewelry box for years to come.
Available just in time for the holiday, the new Valentine's Day Collection launches on Friday, Jan.17, and guarantees something covetable for anyone. Handmade in Bangkok, each piece is one-of-a-kind as the brands signature white gold vermeil curb chain is adorned with dainty deadstock pearls.Offered in white or pink baroque pearls, the chains are also customizable in length to ensure a perfect fit. And not only do the pearls add a tender touch of romance but you can feel good knowing your accessory choice is helping towards sustainable fashion.
Ready to get your hands on this dainty designs? Shop TZR's picks below or visit the brands website to peruse its collections in full.