Elle Fanning's Street Style Is Super Easy To Recreate With These Wardrobe Staples
Vittorio Zunino Celotto/Getty Images Entertainment/Getty Images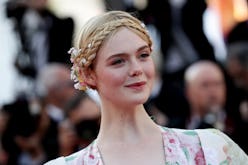 The 2019 Cannes Film Festival was like Elle Fanning's own personal fashion parade. Seemingly overnight, the 21-year-old actor became one of the chicest people in Hollywood. Even her street style looks are unrivaled and, believe it or not, easy to recreate with Elle Fanning's trusty wardrobe staples.
This Teen Spirit actor's aesthetic is so unique it's nearly impossible to define. A cross between Grace Kelly and Elle Woods, maybe, or '90s nostalgia meets garden nymph. That Malibu Barbie look she pulled off at the 2019 Met Gala launched her onto the fashion scene rather abruptly, and she's been making major waves since.
Prada, Miu Miu, Valentino, Vivienne Westwood, Gucci, and Dior Haute Couture — the looks just kept coming during her visit to the French Riviera (as Cannes' youngest ever juror, no less). And between red carpet appearances, her style never let up.
There's no doubt that Fanning is quickly becoming the it-girl of 2019, and there's none more adorable to model your spring outfits after. At the foundation of her classic-contemporary look are a few unbelievably simple wardrobe staples that are versatile enough to pair with almost everything.
Ahead, the three basics Elle Fanning wears constantly.
Sheer Turtleneck
Adhering to the emerging sheer trend, the actor has been living in this transparent turtleneck all spring. She initially debuted it with baggy jeans, white cowboy boots, and a pink-and-yellow down coat back in March, but in a later look, she layered it under an oversized navy blazer like the one that's already hanging in your closet.
Menswear-Inspired Button-Down
She might be young, but Fanning oozes sophistication. She can't get enough of this classic menswear staple, the key piece to elevating her off-duty outfits: A light-blue button-down is a must. She sometimes tucks this top into loose-fitting jeans and pairs a longline jacket overtop, but on her first day in Cannes, she wore it with a smart beige suit and bold red quilted fanny pack.
Chunky White Sneakers
Though chic, her outfits are often super edgy, thanks in part to her favorite pair of chunky white sneaks. Fanning is obsessed with her Balenciaga tennis shoes and has worn them everywhere from the airport to the set of the Tonight Show Starring Jimmy Fallon. Dresses, skirts, everyday denim; this versatile footwear doesn't discriminate.