Elemis' New Hydration Juice Doesn't Look Like Your Typical Moisturizer
Courtesy of Elemis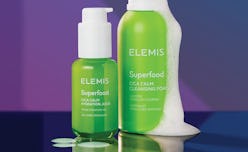 Let's get one thing out of the way first: Elemis' new Superfood Cica Calm Hydration Juice is not, in fact, a juice. However, it isn't your run-of-the-mill cream moisturizer, either. Released alongside the Superfood Cica Calm Cleansing Foam early this January, the new Elemis launch is described as a "super hydrating gel" on the beauty brand's website — where you can snag your own bottle for $48.
You can thank the Hydration Juice's 75 percent organic aloe vera juice and sustainably sourced fruit waters for its intriguingly lightweight, gel-like texture. Formulated sans silicones or parabens, the majorly moisturizing product is like a cool glass of water — er, juice — for your skin. Because yes, there is actually a juice by-product in the skincare formula: Those green mandarin and kiwi fruit waters are derived from the juicing industry, and lend an extra glow to your skin.
Better yet, the gel moisturizer gets an additional boost from Centella asiatica, a redness-reducing and skin-soothing powerhouse otherwise known as tiger grass or by its more modern nickname, cica. In Elemis' case, the Hydration Juice's cica extract has been biotransformed, an act that it notes on its website "enhances the activity and power of our star ingredient, making it more compatible with the skin to absorb its nutrients, for a visibly calm complexion." Yes, please.
Pay close attention to the formula's active prebiotic, too. Both the Hydration Juice and $32 Superfood Cica Calm Cleansing Foam include the microbiome-friendly skincare ingredient as a way to balance it out in a healthy way. The cleanser even adds in fermented rice water, green tea seed oil, and agave for another dose of hydration and antioxidants.
And just in case you want to try out both products before you jump for full-sized bottles — or you're already plotting your next vacation — Elemis does offer travel-sized versions of the two new launches: the $22 Travel Superfood Cica Calm Hydration Juice and the $12 Travel Superfood Cica Calm Cleansing Foam. You can find all of the available sizes on Elemis' website; or, keep scrolling down to shop the new Superfood Cica Calm products.