Eighteen B's New Serum Fills A Gap In Your Skincare Routine You Probably Didn't Know Existed
Courtesy of Eighteen B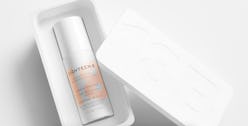 Most beauty fans can — and sometimes do — complete their skincare routines in their sleep. Your order may be different, but the basic steps are the same: cleanse, tone, moisturize, SPF, and so on. But what if there was a step you were missing out on, and it was throwing a wrench into the entire operation? That's where Eighteen B's new Firm + Replenish Serum comes in. Officially available on the brand's website for $105 starting Aug. 29, the new serum is specifically formulated to help fortify your skin barrier, post cleanser.
"In our research, it became clear that one of the most disruptive things we do to our skin's natural barrier is to cleanse and exfoliate. Cleansing is essential to healthy skin, of course, to remove dirt and make up. In the process, however, cleansers strip the barrier function of some important natural moisturizing factors," explains the Chief Scientific Officer of Eighteen B, Lindsay Wray, to The Zoe Report via email. "We think it's important to rapidly replenish those healthy ingredients you just stripped away. What could instantly replenish that barrier? You guessed it: a serum."
Not just any serum will key into repairing your skin's barrier, though. "When we were developing our Firm + Replenish Serum, the serums I saw on the market delivered a potent dose of great ingredients, like vitamin C and vitamin A. However, none of these serums worked to replenish our Natural Moisturizing Factor and essential lipids, which our skin loses during cleansing," Wray adds.
"The Natural Moisturizing Factor (NMF) is a cocktail of amino acids, PCA, hyaluronic acid, and more that the skin naturally creates to keep the stratum corneum and epidermis hydrated," she continues. "Our serum features a potent dose of NMF so your skin doesn't need to work so hard to replenish NMF on its own."
The formula also relies on Eighteen B's proprietary b-silk protein, a lab-grown (and animal-free) ingredient that can improve skin elasticity, smoothness, and hydration. You may recognize this vegan silk from the technology company Bolt Threads, who developed the Stella McCartney-approved material and founded Eighteen B. As you may expect, the rest of the Firm + Replenish Serum formula is vegan, as well — and made without fragrances, sulfates, parabens, and silicones.
It's easy to work Eighteen B's new product into your established skincare routine, too, even if you already have a few serums lining your bathroom cabinet. "After you cleanse, apply the serum. Then go on to apply your moisturizer and SPF per usual," Wray notes. "Our beta-testers have highlighted that our serum layers well over bioactive serums such as vitamin C and vitamin A. I especially love to apply the serum after I exfoliate. My skin feels so fresh and new after exfoliation and the serum helps to maintain this feeling."
And while the Firm + Replenish Serum officially launches Aug. 29, it's available for advanced purchased starting Aug. 28 for The Zoe Report readers. Below, Eighteen B's new, routine-completing serum.