These Leggings Are Perfect For Cold Runs — & They're 50 Percent Off Right Now
Eddie Bauer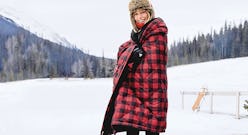 With Black Friday, Small Business Saturday, and Cyber Monday having come and gone, you're probably under the impression that the marathon of shopping days is finally over. And while your bank account may be glad to see a cease-fire, you might be looking over your gifting list and realizing there are still a few loved ones left to shop for. As it turns out, you're in luck, because the Eddie Bauer Cyber Monday sale has been extended through today. That means you've got another chance to score the brand's classic, practical pieces for a whole lot less.
Considering the overabundance of Cyber Monday sales, you wouldn't be alone if there were a few you ended up missing. For some brands, Cyber Monday marks the only sale held all year, so you've got to have your priorities in order, right? Luckily outdoor lifestyle brand Eddie Bauer has blessed shoppers with an additional day to access its Cyber Monday savings, offering a whopping 50 percent off purchases on Nov. 27 — just be sure to use code CYBER50 to see your reduced total at checkout.
The major sale extends site wide, with the only exclusions being on the brand's tents, sleeping bags, and any non-Bauer gear the site offers. Those items aside, you're free to shop the multitude of apparel offerings for women, men, as well as gear for the adventure lovers in your life, all at half price. And even if you may be trying to stick to shopping for holiday gifts, don't be surprised if you end up grabbing some high-performance goodies for yourself too.
Case in point, the brand's Crossover Trail Tight Leggings, usually $99 but down to just $49.50 during the extended Cyber Monday sale. They're made from a warmth-conserving yet moisture-wicking fleece fabric that promises to keep legs warm when you opt to run outside on cold days — meaning your limbs won't be numb after you clock your daily miles. With the half-price discount, consider stocking up on another pair so you're ready for the season ahead, or gift the second set to your sporty sister.
And as the season of bundling up in cozy layers sets in, take advantage of Eddie Bauer's endless options of sweaters, shawls, and snuggly accessories. Snag the Vesper Blanket Shawl in a seasonally-appropriate red plaid pattern to throw over shoulders during holiday parties. Originally $60, it's a total steal during the sale at just $30, and will make you feel like you're wrapped up in a warm blanket all night long. For mornings spent lounging at home, grab Bauer's Hooded Sleep Cardigan, $40 thanks to the sale. It comes in five different colors, from a charcoal heather gray to a cheery heather red, so consider buying one for everyone in your family.
On the hunt for some stocking stuffers? Eddie Bauer's sale is still stocked up with great winter accessories, like hats and scarves that'll keep friends and family warm when the temperatures drop. The Lodgeside Scarf in a simple cable knit with fun pom tassels is a standout option, and down from $55 to $27.50 during the Cyber sale. Though it's a basic essential, your loved ones will appreciate the thoughtful and practical buy.
Just when you thought the days of deals were over, the savings continue to roll in. Don't miss out on this extra opportunity to shop Eddie Bauer's go-to performance products that'll keep everyone on your list comfortable for the season ahead — whether indoors by the fire, or braving the elements outside. Browse a selection of the sale's best offerings below and be sure to shop them while the sale still lasts.