Dyson's Newest Launch Might Make Staring At A Screen All Day More Tolerable
Courtesy of Dyson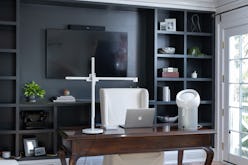 Though the digital revolution has brought the world many things such as social media, faster communication via email and instant messaging, and really, anything else related to the Internet, it has also left many with the predicament of remaining stationary in front of a computer for more time than anyone would like to admit. Of course, desk jobs aren't anything new, but considering the amount of time most people stare at a screen for their jobs these days, anything to reduce the strain, such as the new Dyson Lightcycle Task Light, is a welcomed addition.
Given the number of blue light-blocking glasses and ergonomic-friendly posture rests that have been popping up as of late, it's no secret that the world is beginning to feel the exhaust of working at a desk for a number of hours. Luckily, that's where Dyson comes in. Before you question the fact that a popular vacuum brand is creating a new light for your workspace or home, remember: This is the same brand that brought you a celebrity hairstylist-approved blow dryer.
The Lightcycle Desk TaskLight, which is available for $599, might possibly be the smartest light you'll own. Not only does the light auto-adjust to its surrounding light, based on its tracking of the color temperature and brightness of its location, but it also adapts to your specific age, tasks, and sleep times. Along with that and its energy-saving motion sensor, it also is designed to reduce eye strain with minimal flicker and glare protection — two factors of visual fatigue — for all of those projects you might be working on. If you want the same type of power for a larger area, you can also get the Lightcycle Floor Task Light, which costs $899.
This innovated light piece launched with two other products from Dyson, the Pure Cool Me, a personal purifying fan, and the V11 Torque Drive, the brand's latest cord-free vacuum. Right before the temperatures start to rise, Dyson released its Pure Cool Me, which is available online for $349.99. This product is an oscillating air purifying fan that allows you to be cool and comfortable, and comes with a sleep timer for the night. Just in case you're in search of a new vacuum, the V11 Torque Drive, $699.99, not only does this new product have a sensor system that detect when to change the level of suction power between carpets and hard floors, but it also features an LD screen that displays the vacuum's run time and performance.
Ready to add these pieces to your home? Scroll down to shop each product from Dyson, now.