I Tried Drunk Elephant's New Overnight Mask & It Made Me A DE Convert: Review
Photo by Madge Maril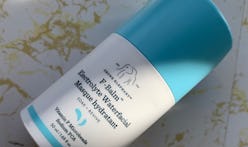 Confession time: Before Dec. 3, I'd never tried a Drunk Elephant product. I know, I know — but when your job is writing about (and subsequently testing) skin care, the must-try list is long, and the process of getting to anything new is slow. But this meant that my interest was particularly piqued when Drunk Elephant's new F-Balm Electrolyte Waterfacial was sent my way. Arriving at Sephora and on Drunk Elephant's website Jan. 1, the upcoming vitamin-packed overnight mask seemed to embody everything I'd heard about the brand: Its moisturize-while-you-sleep application is inventive, the colorful (yet minimalist!) packaging is chic, and the ingredients are scientifically sound.
And, as you could guess, it took careful planning to add something completely new to Drunk Elephant's already established, cult-famous product suite. "F-Balm Electrolyte Waterfacial has been a longtime coming — we started work on it mid-2017 and it's taken 12 tries to get us here," Tiffany Masterson, founder of Drunk Elephant, tells The Zoe Report in an email. "Our first — and only mask until now — was T.L.C. Sukari Babyfacial, which is a pro-strength 25% AHA and 2% BHA treatment. However, due to its high percentage of acids, it is only available in the U.S. and Hong Kong. Since the launch of Babyfacial, our international community has been asking us for a mask that they could have access to, as well as asking for a mask that had more of a moisture and hydration focus."
Enter F-Balm. Just layer on four or five pumps of the $52 mask before you sleep, and its formula will work overtime, hydrating your skin as you snooze. "F-Balm is a hard-working, intensive repair treatment for when skin is extra parched, stressed or irritated — or anytime it needs a little extra love," Masterson continues. "F-Balm Electrolyte Waterfacial, as our first global mask, accomplishes this with a mix of ingredients focused on replenishing and strengthening skin's acid mantle via high doses of electrolytes, omega fatty acids, ceramides, and powerful antioxidants."
This includes F-Balm's namesake, cellulose-encapsulated microbeads of vitamin F, otherwise known as "the combination of two essential omega fatty acids — linolenic and linoleic acid," says Masterson. "These cannot be synthesized in the body, so they must be supplemented (dietary and topically), and together they play a vital role in maintaining hydration levels, improving skin texture and suppleness while reducing inflammation and improving acid-mantle strength."
I mean, sign me up. The night after I received the mask, I cleansed my skin, applied an essence and a moisturizer, then dabbed on F-Balm, which Drunk Elephant notes should be the last step of your evening routine. Although the product itself is creamy and white, it completely vanished into my skin as I applied it, with the subtle vitamin F microbeads disappearing instantly as well. F-Balm's texture is similar to how your skin feels after taking off a high-quality sheet mask — my face felt saturated with product, and sticky to the touch. I also looked very, very shiny.
Much to my surprise, F-Balm's initially tacky feeling (and majorly glossy appearance) completely settled into my skin after around 20 minutes, mimicking how my face regularly looks and feels after my everyday, moisturizer-heavy skincare routine. Basically, it didn't seem as if the entire mask would slide off my face and onto my pillow as soon as I went to bed — a very good thing in my book. F-Balm feels secure.
As another pleasant surprise, I could barely feel F-Balm on my face at all when I woke up. There was minimal residue left on my skin — which, by the way, looked especially pleased. My face's standard dry, flaky, foundation-resistant patches (across my forehead and at my nose) felt calmer and much more smooth than usual, while the redness I've come to expect from my T-Zone seemed to settle into my complexion overnight.
Consider me a Drunk Elephant convert. With its easy-as-can-be application and already visible benefits, I can't wait to see what using the mask over time does for my skin. Ring in the new year with Drunk Elephant by snagging your own bottle of F-Balm Electrolyte Waterfacial from Sephora or DrunkElephant.com Jan. 1.