The Viral Beauty Products That Dominated Instagram In 2019
Drunk Elephant/Instagram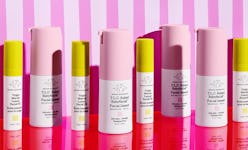 Ah, 2019. The year the '90s smoky-eye officially returned, beauty fans opted for "no-makeup makeup" (accented by neon eyeliner), and Drunk Elephant completely took over Instagram. When you take a look at which viral beauty products stole the show in 2019, you can see these majorly popular trends taking root, slowly budding — shelfie by shelfie — before reaching a fever pitch.
With everyone's new adoration for skin care front and center of the entire thing. CNN Business reported in May that U.S. skincare product sales saw a 13 percent growth in 2018, while makeup sales only rose by 1 percent. Meanwhile, in March, Reuters shared an Orbis Research report estimating that the global beauty industry's market value will be worth $805.61 billion by 2023. That's a lot of moisturizer.
This shift in consumer behavior brought on a bevy of wildly popular skincare-makeup hybrids that blurred the line between routines and bridged the once-wide gap. Just take Glossier's recently released Futuredew oil-serum formula for example: It opened the door for "long-wear skin care", offering a product for users that wanted to keep their moisturized, serum-induced glows shining all day long (and in lieu of foundation or other complexion products, perhaps).
Predictably, the October launch has quickly become a hit — garnering itself a Millennial-pink "Top Rated" sticker on Glossier's website. However, Glossier and Drunk Elephant weren't the only ones to score big with shoppers this year. Ahead, 12 beauty products (and brands) you inevitably saw on Instagram — then saw again, and again — throughout 2019.