Dr. Dennis Gross Just Created A New Skincare Collection Specifically For Stressed-Out Skin
Dr. Dennis Gross/Instagram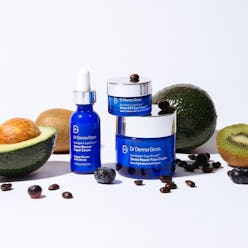 Hoping that 2020 will be the year you finally learn to healthily cope with stress? It's a valiant goal, however you probably know that it's much easier said than done. And while you may find a few months in that it could be a lost cause, there's still hope as far as your skin is concerned. Enter Dr. Dennis Gross' new B₃Adaptive SuperFoods collection, which may not wipe stressors from your life (that difficult coworker won't magically disappear) — but it'll help erase the effects of high-stress situations from your complexion.
The latest launch from the dermatologist developed line dropped online on Dec. 26 and arrived in stores at the start of January, with the goal of eradicating signs of stress from your face for good. Why? Because Dr. Dennis Gross knows it's one of the top complexion concerns out there.
"The inspiration for this line really began in my practice. I see patients every day, and when they tell me about what's wrong with their skin, they're usually telling me what's wrong in their lives. A new baby and not enough sleep, a difficult boss and overwhelming work hours — they're describing the stressors in their lives that are wreaking havoc on their skin," Dr. Gross tells The Zoe Report in an email.
And just like the healthier diet you may be trying to stick to at the start of the new year, the new collection is chock full of superfoods (plus balance-restoring ingredients) that promise to deliver real results.
"Stress throws the skin off balance, and niacinamide works to balance your skin. It improves lipid barrier function, retains moisture, reduces inflammation and redness, regulates oil, diminishes fine lines & wrinkles, treats hyperpigmentation, and reduces breakouts," Dr. Gross says, "The superfoods (including avocado, cacao, kiwi Kakadu, coffee) heal, repair, and prevent all skin conditions including stress and aging."
You'll find curated combos of these soothing ingredients in the three new products, which include the Stress Repair Face Cream, $72, Stress Rescue Super Serum, $74, and targeted Stress SOS Eye Cream™, $65. Each work to protect and balance skin, reduce inflammation and hyperpigmentation, and diminish fine lines — and they promise to do so effectively, thanks to a brand-new bi-layer delivery system developed by Dr. Gross that optimizes the products for maximum absorption.
Use the face cream for high-impact hydration and allover stress reduction (it'll tackle dry patches, redness, and fine lines with each use), or grab the serum for concentrated treatment of major irritation flareups or more pronounced wrinkles. Dark circles and lines around your eyes? The coffee in the SOS Eye Cream will brighten and de-puff for smother skin. Pro tip: Stressed out skin needs to be exfoliated more frequently, since cell turnover is impacted by heightened stress hormones. So, grab some of Dr. Dennis Gross' beloved Alpha Beta Daily Peels too for top efficacy.
2020 probably won't be the year you say goodbye to stress — but you can say hello to much happier skin by shopping these new launches, below.