Donni's New Loungewear Line Is About to Flood Your Instagram
Courtesy of DONNI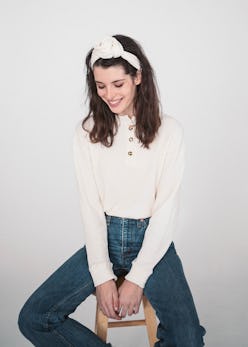 There are few things in life as wonderful as really, really, ridiculously good loungewear — especially when you pair it with an even better glass or wine — er, book.
And though there's probably no shortage of ill-fitting drawstring pants and oversized sleep shirts in your nighttime arsenal, now's about good time for an upgrade because everyday essentials label DONNI is launching a new loungewear line Sept. 4. Calling it now: Much like the brand's previous releases — which consisted mostly of on-trend tube tops and scrunchies in earth-tones — these perfectly cozy pieces are going to take over your Instagram feed in no time.
"I love that these are pieces you can lounge in at home and dress up for dinner," DONNI founder Alyssa Wasko says over email. "The pearl cardigan is the perfect example of that: Wear it at home with the matching bloom pant for the ultimate lounge set, or tuck the cardigan into high-waisted vintage Levi's with sandals for dinner with the girls."
If you're not familiar with DONNI, let's start here: Founder Alyssa Wasko began creating scarves as a creative outlet to cope with the loss of her father, Donald. In the years following, Wasko's hobby turned into a full-fledged business, and since then, DONNI has expanded into bags, hair accessories, and ready-to-wear clothing.
Take one look at the brand's offerings and you'll realize you've probably already come across it — if not on its own feed, on influencers all over the world: Blogger Anne-Miek Kessels, who you might know better as @modedamour, seems to love brand's comfortable separates (Kessels wears the DONNI Flora Pants in the image above); Cupcakes and Cashmere founder Emily Schuman has worn a scarf from the brand a time or two; and we even hear Lucy Hale's a fan of DONNI's crop tops.
Since the brand has already made a name for itself for easy separates thanks to it flowy pants and ruched tube tops, its expansion into loungewear makes perfect sense. Versatility is at the core of the brand, and each piece was created so that you could wear it whether you're posted up on the couch or having a casual night out.
It's the juxtaposition that Wasko put into these pieces that also make this line stand out from other loungewear collections. While many other lines are created solely for, well, lounging, DONNI's line is made up of henleys with pearl details, thermal tees with ruffled necklines, and color-blocked shawls — classic cozy items with trendy updates that make each one feel both unique and refined enough to pair with the other thoughtfully chosen items in your closet.
And of course, if you're set on saving your loungewear strictly for lounging, you'll feel ridiculously luxe in the best way. Fortunately, the prices aren't as luxurious as the pieces themselves: accessories run from $35 to $139, while separates range from $104 to $144. Even better, Wasko tells us to keep an eye out for some exciting new developments over the next year.
Shop the products launching Sept. 4 below.