Why Dior's 2020 Cruise Collection Is A Look Toward Fashion's Future
Courtesy Dior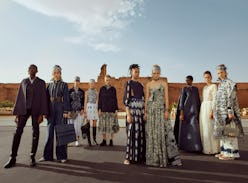 "Culture teaches us to live together, teaches us that we're not alone in the world, that other people have different traditions and ways of living that are just as valid as our own." The quote from Tahar Ben Jelloun's book Racism Explained to My Daughter opens the show notes from Dior's 2020 cruise collection, which took place in Marrakesh, Morocco April 29. Designer Maria Grazia Chiuri touched on Dior's ties to the African continent (Christian Dior's successor Yves Saint Laurent was Algerian born), but also looked forward, collaborating with Pathé Ouédraogo, a designer from Burkina Faso, along with Bristish-Jamaican designer Grace Wales Bonner, and African-American artist Mickalene Thomas. She also collaborated with African artisans on both the textiles throughout the collection and the set design.
Today, there are often collections that draw inspiration from far-flung locations (especially during the Cruise season) without acknowledgement of the rich cultural heritage of communities across the globe. But in this case, Chiuri deftly incorporates both the classic designs of Dior and the traditions of Morocco and Africa at large. Wax print fabric is highlighted as a key inspiration throughout the collection, with new interpretations of toiles de Jouy or tarot motifs. "Maria Grazia Chiuri imagined this collection like a map whose topography is filled with sentiments revealed through traditions, places, cultures and savoir-faire, recalling how techniques, gestures and images belong to a collective heritage," explains the show notes. "This cartography is enriched and animated by various creative collaborations that nourish Maria Grazia Chiuri's project and enhance Dior's codes like a multilingual artistic dialogue."
The show itself took place at a 16th century El Badi Palace, with models walking in front of a large pool lit by floating candles. Stars including Lupita Nyong'o and Jessica Alba sat beside influencers that included Jeanne Damas and Leandra Medine — all attended as guests of the brand, sitting alongside VICs (top-spending customers).
During Dior's Fall/Winter 2019 fashion show in Paris this past spring, the collection contrasted the sharp suiting of Britain's Teddy Girls post-World War II, with the light, romantic elegance that Chiuri has made her signature over her tenure. Continually, Chiuri draws on historical and political references when presenting her collections (note the popularity of her "We Should All Be Feminist" t-shirts).
But, the latest collection — though it touched on historical references and traditions (Christian Dior's 1951 'Maroc' dress was inspired by Marrakesh), the collection was in many ways about reimagining the old through a lens of cultural exchange. ""I think that if you move to another country to stage a show, you have to reflect about your codes, but also have a conversation with the whole continent," Chiuri told WWD. The designer also looked to anthropologist Anne Grosfilley, whose expertise in Wax fabrics became crucial in the development of the collection. "Her book presents fabrics like a family tree: her research reveals the multiple origins and constant evolution of Wax, the result of a long history between Europe, Asia and Africa," notes the press release. "Above all, Wax fabric represents a cultural melting pot."
Does this move towards a more inclusionary take on high fashion mark a shift in a notoriously Euro-centric corner of the fashion industry? It leaves to be seen in what ways the collection will be worn and interpreted by those who purchase pieces, but it marks an important step in acknowledging the cultural connections threaded throughout the clothes you wear every day.