The Reason Dior's Fall 2019 Haute Couture Show Was Almost Entirely Black
Courtesy Dior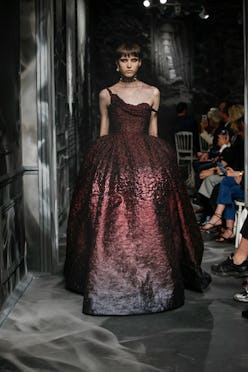 "Are clothes modern?" With those three words — attributed to writer and architect Bernard Rudofsky — emblazoned in black across an all-white opening look, creative director Maria Grazia Chiuri was making a statement. Dior's Fall 2019 couture collection was not going to be your average fashion show. Not only was the full collection almost entirely black — suits, ball gowns, coats, and jackets alike — it closed with a model dressed in head-to-toe fishnet and the golden facade of 30 Avenue Montaigne, the atelier where the show took place. It was a look that while clearly wasn't meant to be worn, was still an appeal to the brand's core customers who expect a tacit message in her work.
"Designing a collection almost entirely in black, punctuated by rare colors that reveal its power, implies a return to fundamentals, to the foundations of haute couture, and confronting it against contemporary lifestyles," the brand notes via press release. "Black demands perfection, and here it gives life to transformable capes. Each dress is an edifice that reveals its construction, the bone structure that supports and defines it."
In many ways the brand touched on those core concepts that Chiuri executes so well: full ballerina skirts, tulle and lace, sharp suiting, and of course, accessories. Chiuri knows that the Dior woman will just as achingly desire the Victorian choker, black beret, mismatched statement earrings, and even the gladiator-sandal-meets-fishnets footwear that appeared on many of the models. But, the face-shrouding nets and prevalence of black resulted in a collection that was both somber and austere.
Unlike a brand's ready-to-wear, cruise, or pre-fall collection, Haute Couture is an examination of the fine line between fashion and art. Utilizing the talents of artisans that attend to every detail — fabric, buttons, palliates, feathering — the iconic fashion houses are able to achieve extraordinary levels of detail, resulting in pieces that while in photos may not seem too far a cry from other collections, up close are meticulous and mesmerizing all at once.
At a time in fashion where maximalism continues amid much buzz, and when the summer's top trends include neon green, rainbow tie-dye, and bold, clashing patterns, it's statement-worthy to desaturate, and instead let the rich complexities of design speak for themselves, sans-distraction.
Inspirations for this season's collection are sweeping. The brand highlights the gradient works of artist Penny Slinger, while also referencing the tunics worn in ancient Greece ("has no defined, constructed cut: it's the body that gives it its form"), and unsurprisingly, a tie back to Mr. Dior himself, who stated in his Little Book Of Fashion, "I could write a book about black." So, though the saying may go that black never goes out of style, it would seem that by Chiuri's accord, the shade is placed again at the forefront of fashion.
Referencing modernity in a haute couture collection may seem an odd dichotomy. When the purpose of couture is to preserve the craft-ways of past eras, in what way can modernity come into play? Well, though techniques may be steeped in tradition, clothing itself, and the way that women choose to wear it, is a fluid construct. Clothing is modern, but it also holds onto the past.