Deciem's Having A Month-Long Sale In November For A Very Surprising Reason
Deciem / Instagram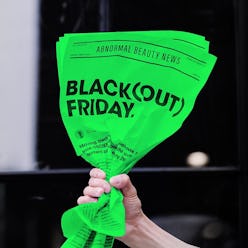 Deciem's not having a Black Friday sale this year — in fact, the brand has announced that, for the first time ever, it will be closing its website and stores for a "moment of nothingness" on Nov. 29 and eschewing the shopping holiday altogether. But before you panic about getting your much-anticipated discounts on cult-favorite products from Deciem brands like The Ordinary and NIOD this year, don't worry: Deciem is instead holding a "Black(Out) Friday sale," offering 23 percent off every product across all of its brands for the entire month of November. Of course, you know, with the exception of Black Friday itself.
It's a surprising move given that the holiday is one of the biggest shopping days of the year — but that's exactly why Deciem decided to opt out. "Hyper-consumerism poses one of the biggest threats to the planet, and flash sales can often lead to rushed purchasing decisions, driven by the fear of a sell-out," reads a caption on the brand's Instagram announcing its decision. "We no longer feel that Black Friday is an earth or consumer-friendly event, and have therefore decided to close our website and stores for a moment of nothingness on the 29th November."
So what does this mean for customers? Unlike past years, where a small selection of products was marked down, this month every product will be discounted from Nov. 1 until Nov. 30 (excluding Nov. 29). According to the brand's Instagram, this extended sale not only serves as an opportunity to give customers more access, but also to provide them enough time to make informed purchasing decisions.
"Last year, only 16 products were discounted, everything sold out too quickly, and many of you missed out (we are still sorry)," the brand continued in its Instagram caption. "We strongly believe that skincare decisions should be based on education rather than impulse, and hope that a month-long promotion will provide the time for research, reflection, and consideration."
While the brand is still essentially participating in the holiday shopping madness, it's doing so in an undeniably creative way — and hopefully it's a way that does, in fact, encourage customers to shop slower, which is one of the brand's ultimate goals of this promotion.
Keep scrolling for TZR's picks from the sale — and remember, there's no need to rush: These discounts will last through the end of the month.