Here's How To Get 25 Percent Off Your Go-To Deborah Lippmann Nail Polish Shades Right Now
ImaxTree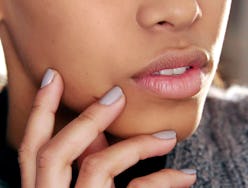 Of all the different categories there are within the beauty realm, it seems as though nails get less attention than they deserve. Perhaps it's because once you find your signature shades, they end up being your go-to options for nearly every occasion. However, if you've been wanting to try new color trends for the season, or just want to stock up on everyday classics, Deborah Lippmann's summer sale is providing a major discount on its nail products right now.
Like any other area of beauty, nails have their own set of trends that come and go with each passing season. Whether it's a particular family of colors such as neon, or unique and unexpected nail art ideas, the options are endless. But if there's any time to start experimenting with nail trends and polishes, it's during a sale.
From now until June 24, the luxe nail polish brand is celebrating the start of summer and offering 25 percent off your purchase when you spend $75 or more; just be sure to enter the code "JUNE19" at the checkout. Whether you want to add a color or two to your rainbow of lacquers, or a full collection, it's all there for you to shop.
With more than 160 colors to choose from, finding your perfect shade might prove to be a little intimidating. However, many of Deborah Lippmann's nail polishes have earned the title of Allure's Best of Beauty in nails. So if you need a starting point, you can go with popular shades like the shimmering pale pink "Delicate" or the cool muted blue "Free Fallin'," which both cost $20.
Of course, if you want to opt for a color that feels more appropriate for summer, you can't go wrong with the vibrant orange "Lara's Theme," which is available for $18. While this color may feel like a bold statement, Selena Gomez recently sported orange nails, further proving that this warm hue will be everywhere this season. Or, as nail artist Miss Pop told TZR in a previous interview, another summer nail trend that's having a moment in 2019 is "jelly-tinted" tips. If you want to create the look at home, use glitter polishes like "Happy Birthday" or "Stronger," which both cost $20.
Ready to get these high-quality polishes for 25 percent off? Scroll down to shop more colors from Deborah Lippmann. And once your cart reaches $75, don't forget to use "JUNE19" at the checkout to get your discount.