Dear Frances' Latest Launch Is All Of Instagram's Best Shoe Trends In One Piece
Dear Frances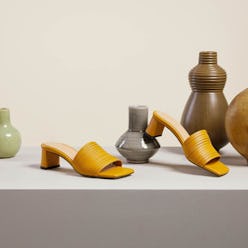 Considering the extreme temperatures you experience during summer — sweltering heat from outside and frigid air conditioning anywhere indoors — dressing for this warm-weather season comes with its own set of challenges. Luckily, no matter what type of climate you might be working with, summer is the perfect time to break out a pair of chic sandals. And with Dear Frances' new Reed Mule, you can sport Instagram's favorite summer shoe trends with just one pair.
As one of the primary sources for discovering new trends and designers, Instagram makes it hard to miss anything that the industry — as well as the sartorially-obsessed — is particularly loving. Lately, it seems as if style influencers can't get enough of three trends: square-toes, block heels, and strappy details. And while you could always get yourself a pair of shoes for each style, with Dear Frances' Reed Mule, you get all three.
Available in three different colors — black, tortoise, and yellow — the $325 Reed Mule features a cool, '90s-inspired square toe and a comfortable heel for walking. To give it a modern touch, these mules also have dainty straps across the top of the foot. And with such a timeless silhouette, you can style these with anything. Whether it's a polished dress or linen trousers and a knit tank top, these mules will easily become one of your favorite pairs of the season.
While the Reed Mules already have a sleek and elevated look, if you want something that feels more feminine, opt for the Reed Heels, $315. Rather than the chunky block heel on the Mule, you'll find a vintage-inspired stacked angle heel instead. Available in red, black, and tortoise, you can style these with a pair of jeans and a blazer to wear to the office for casual Friday. And once the weekend hits, wear them with a pretty skirt and cardigan for brunch with your friends.
Just in case you're looking for other shoes to add to your closet, Dear Frances has more Instagram-worthy styles coming soon. On July 1, the direct-to-consumer shoe brand will be releasing its pointy-toe Elin Mule and the strappy Vale Sandal. Not long after, the brand's Rohe Heels — which are its take on the "naked" shoe trend — and minimalist Chaise Mules will be available on July 8.
Elin Mule/Courtesy of Dear Frances
Vale Sandal/Courtesy of Dear Frances
Scroll down to shop the Reed Mule and Heel below, and then head to Dear Frances' website in July to shop its other summer styles.