Côte's New On-The-Go Nail Polish Set Is Perfect For Color-Curious Minimalists
Courtesy of côte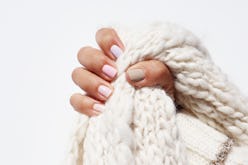 It's no secret that nail polish minimalists flock to côte. Although the brand does offer seductive dark scarlets and shimmery emerald greens, its dedication to the subtler shades is noticed, and appreciated, by its fans. (This is the brand that offers more than 10 variations on a classic pink-beige neutral.) And côte's new 6 Piece Traveler Layering set continues on in the same subdued vein — but with one very unique twist.
Released mid-October, the new $42 set features six travel-sized côte nail colors, ranging from trademark pale neutrals to eye-catching glitz. For those who prefer barely there nail colors, there are shades like the blush-tinted neutral No. 6, sheer pink No. 10, and creamy gray No. 43. Meanwhile, punchier colors — such as the shimmery No. 14, lavender-hued No. 111, and bubblegum-pink No. 117 — round out the set and give you more room to play.
With so many colors to choose from, you can opt for a solo-shade look, or a very 2019-approved rainbow manicure. However, these aren't your only two options. Although they look crisp and clean painted on individually, each côte nail polish in the set was also selected for how well they layer together; and the brand means that quite literally.
After painting on one shade from the set, shoppers can go ahead and pick up another, completely different bottle and paint on a layer of that color, creating their very own unique shade. This can be as simple as layering on the glittery No. 14 or combining two more opaque colors into a new custom shade.
For those who've never dipped into multiple nail polishes at once, the brand went ahead and named a few color combinations in the product description. Layering the shades No. 111 and No. 10 creates a "wintry sunset" color with a pretty purplish tint, while combining No. 43 and No. 14 ends up creating the the warm tone of a cozy cup of hot chocolate.
Of course, you may want to skip sneaking a peek at the predetermined combos and just explore the set for yourself — one manicure at a time. However you choose to make your way through the set, keep on scrolling to pick it up for yourself; côte's new 6 Piece Traveler Layering set is below.