Cher Horowitz Was The Inspiration Behind Constance Wu's Skirt Suit
Matt Winkelmeyer/Getty Images Entertainment/Getty Images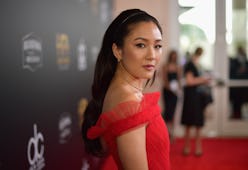 It's as iconic as the tutu Carrie Bradshaw wore in the opening credits of Sex and the City, as memorable as the pink, feather-trimmed dress Michele sported to her high school reunion alongside Romy — nothing says '90s like Cher Horowitz' yellow plaid skirt suit, and Constance Wu just recreated it. The actor had a major throwback moment at the photo call for Hustlers on Sun.
Wu, Jennifer Lopez, Cardi B, Lili Reinhart, and Keke Palmer have been brewing up one of the most anticipated films of the season about a gang of former strippers getting revenge on their Wall Street clients.
And while we're on the subject of girl power, the outfit Wu chose for a photo call over the weekend was an unmistakable nod to the most iconic chick flick of our generation: Clueless. The 37-year-old's skirt suit was 1995-era Cher Horowitz to a T. There's simply no mistaking that yellow tartan.
The set — hailing from Alessandra Rich's Fall/Winter 2019 collection — featured a longline blazer and a corresponding mini skirt. Wu wore it with a silky black camisole, classic pumps, and Moritz Glik's Kaleidoscope Shaker Ring. She was certainly a contender for best dressed, even despite Cardi B's dotted bodycon dress and J. Lo's leather gown and beret.
Just over 20 years ago, Alicia Silverstone sported the preppy ensemble over a yellow cardigan, with thigh-high stockings and a Nokia 232, of course. The past two decades have seen ample Halloween costume copies and a couple celebrity replicas worth noting, too.
Olivia Palermo channeled the '90s heroine in similar Sara Battaglia shorts separates during Milan Fashion Week in Feb. of last year. In fact, Fall 2018 runways were overflowing with Clueless-inspired yellow plaid print from designers like Versace, Michael Kors, Matthew Adams Dolan, and Nicopanda.
A few pieces to help you put forth your best impression of Horowitz for Halloween (or any day), ahead.
Shop The Look