ColourPop Introduced Another Fruit-Inspired Collection & Everything's Under $25
ColourPop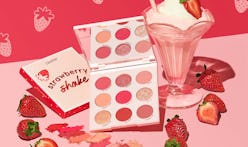 At this point in the summer, the money left in your beauty budget may be dwindling. But, lucky for you, ColourPop's new Strawberry Collection is serving up all the fresh hues you need to take you though the rest of the season for wallet-friendly prices. And, with not one product ringing in for over $25, you can give your top shelf a splash of strawberry without spending a fortune.
No stranger to fruit-inspired products, ColourPop has served up everything from a watermelon-themed collection to a line-up of juicy lip tints this summer. But, for its latest range the brand has turned its attention to another favorite summer fruit: the strawberry. Playful, vibrant, and filled with pretty pinks and bold reds, this berry-themed collection can only be described as sweet.
While you can snag the whole lot for $87, not a single individual product will run you more than $25 — making this yet another affordable collection from the brand. In the mix you'll find everything from new shadows, blushes, and glosses to the brand's newest nine-pan palette appropriately called "Strawberry Shake." Ringing in for $12, the palette's range of colors as well as its matte and metallic finishes will allow for endless summery makeup looks.
You can also bring high-impact, saturated color to your lids with one of the $8 Jelly Much Shadows in the collection. Swipe on "Strawberry Jelly" for a hit of metallic red-coral, or, use the copper-tangerine hue of "Strawberry Jam" to highlight your eyes.
As for the rest of your complexion? Scoop up one of the $8 powder blushes dubbed "Shortcake" and "Seed U Later" to add a natural, pink flush to your cheeks. Then you can use the Strawberries N' Cream Blush Stix Duo, $14, to highlight your cheekbones and the bridge of your nose (hello, summer glow). Finally, plump your lips with a refreshing wash of glossy color in a sheer light pink shade or a deeper pinky-peach hue.
Of course, don't forget to treat your skin pre- and post-makeup to ColourPop's skincare counterpart, Fourth Ray. The collection offers up the "So Fresa So Clean Kit" for $24. With the set you can try two of the brand's new products — "Strawberry Milk" and "Strawberry Seed Facial Oil" — that work to nourish and moisturize your complexion. Rounding out the kit is the strawberry "Lippie Scrub," which will prep your lips for your new strawberry-hued glosses.
Continue on to start snagging strawberry products while they're still available.