ColourPop's New Hydrating Concealer Offers 30 Shades (For One *Very* Affordable Price)
ColourPop/Instagram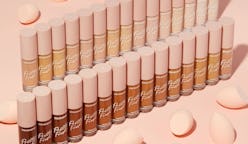 There's a checklist most beauty fans follow when shopping around for a new concealer. First, make sure you can successfully, seamlessly blend it out — either as a spot treatment or on top of foundation. Next, check its coverage: Does it mask dark circles, lines, and spots? Any added skincare benefits are accounted for at the end; though extra moisture gets brownie points. Unsurprisingly, ColourPop's new Pretty Fresh Concealer — the latest addition to the brand's Pretty Fresh collection — hits every single point on this list. The one eye-opener? It retails for just $9.
Though fans of ColourPop, a famously affordable beauty brand, probably won't bat an eyelash at that low price. What will catch their attention instead? The fact that the new concealer takes after ColourPop's $14 Pretty Fresh Tinted Moisturizer, which landed online at the end of September (and has quickly amassed perfect review after perfect review on ColourPop's website).
Like the moisturizer, the Pretty Fresh Concealer is formulated with hyaluronic acid and coconut water, two hydrators that will help moisturize the delicate area around your eyes. This means that with each swipe of concealer, you'll be reinforcing any moisturizer or serums you layered on before your foundation; or doubling up on the same ingredients in ColourPop's Pretty Fresh Tinted Moisturizer.
More impressive is the brand's dedication to making sure you can find a shade that works for you. ColourPop's Pretty Fresh Concealer is available in 30 unique shades — spanning six shade categories ("Fair", "Light", "Medium", "Medium Dark", "Dark", and "Deep Dark") as well as three undertones (neutral, warm, and cool).
Clicking your way to the right concealer shade is surprisingly easy on the brand's website, too: It makes you choose your skin tone and undertone, then offers up one or two shades that could work for you. No more squinting at online swatches or product images, wondering which one is which. Need extra help finding your correct concealer shade? ColourPop also offers a visual makeup shade finder as well as a quiz that'll generate additional options.
And, while you're on the website, pick up ColourPop's recently released Precision Blending Sponge from the Pretty Fresh collection if you haven't joined in the makeup sponge cult. The reusable tool is angled to slip beneath your eyes and flawlessly blend out concealer — and the fact that it's only $5 doesn't hurt, either.
To grab a sponge — and the rest of ColourPop's Pretty Fresh collection — pop over to ColourPop's online store. Below, the brand's new Pretty Fresh Concealer, available as of Nov. 5 on ColourPop.com.