ColourPop Released A New Makeup Collection & It's All About This Unexpected Color Trend
ColourPop/Instagram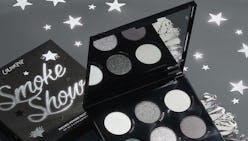 Chances are high that you know ColourPop for, well, its pops of color. The beauty brand isn't shy about giving any shade a whirl; scroll through its website and you'll see cherry-hued eyeliner, lavender mascara, and a rainbow formed by its cult-famous lipsticks. And while this approach may've helped catapult the brand to fame — it currently has a staggering eight-and-a-half million followers on Instagram alone — ColourPop's new collection, The Smoke Show, features a decidedly simple, virtually color-free color story.
As its name implies, the launch debuts ColourPop's first-ever grayscale palette: the Smoke Show Shadow Palette. Offering up nine sultry, wintery hues, the brand-new debut lets beauty fans in on fall 2019's smoky-eye trend for way, way less; the palette retails for just $12, whereas an entire box set of The Smoke Show Collection was only $50 (although sadly, it's currently marked as sold out on the brand's website).
Luckily, most of the individual products are still in stock. Besides that chic new palette, the collection also introduced the $15 Heavy Metal Super Shock Shadow Trio, the $18 Starry Eyed eyeliner kit, and the $12 Smoke 'n Mirrors glitter kit, which features the best-selling glitter gel shades "Starfire", "Disco Lady", and "Trippin On Skies." While the latter does have a slight purple tint — and is currently sold out as well — the majority of the shades are similarly smoky and heavy on the grayscale.
And it's easy to see why this new launch has fans rushing over to the beauty brand's website. ColourPop repeatedly notes online that this release has been long requested — writing "You want it, you got it" on its official Instagram account. Makeup devotees will remember how sparse cooler launches used to be, as well: Before the KKW x Mario collab and Jeffree Star Cosmetics' Blue Blood palette opened up the icy floodgates, cool-toned eyeshadow palettes, smoky or not, were much rarer than those with warm, rosy shades.
And finding a cool-toned, perfectly trendy, seasonally appropriate palette for only $12? That's a reason to celebrate. Ahead, the latest launches from ColourPop's The Smoke Show collection that are still in stock.