Everything You Need To Know About Cole Haan's Comfiest Sneaker Yet
Courtesy of Cole Haan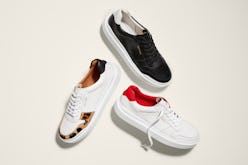 If the ever-present trends of athleisure, streetwear, and ready-to-wear lounge attire have been any indication, the fashion industry has reached an era where comfort is key. Whether you're out running errands, jet setting to a new destination, or just commuting to and from work chances are you'll want to be as comfortable as possible. In which case, Cole Haan's new sneakers are bound to be your best option yet.
As a brand that has mastered the craft of creating easy pieces without skimping on high fashion details, Cole Haan knew what it was doing when it created the GrandPrø Rally Sneaker. The latest to join the brand's family of GrandPrø shoes, the $130 leather sneaker was strategically engineered to reduce weight, which means you'll be able to move more easily everywhere you go.
Featuring an internal foam footbed by Ortholite (as well as, a lightweight EVA cupsole and textured outsole for added traction) the GrandPrø Rally Sneaker was made with peak comfort in mind. The sneaker also has layers of responsive cushioning to move with every step, which means it'll be the shoe you turn to again and again. And just when you thought it couldn't get any better, it was also designed with an ergonomic last. In other words: You'll have the best fit with this shoe.
Cole Haan's GrandPrø Rally Sneaker comes with hand sewn details in four colorways: black with white, white with red, metallic gold with leopard print, and white with leopard print. And with its sleek design, it'll be one of the most versatile sneakers in your wardrobe. And you know what that means: endless styling possibilities.
If you're the type of person who keeps their wardrobe on the minimalist side of dressing — specifically with neutral hues — opt for the black pair. Wear them with an ensemble as simple as a cozy sweater with a knit skirt. Or if you want to a look that's more put-together, create a monochromatic outfit with a black leather jacket and trousers.
Thanks to the sneaker's comfort-focused design, the GrandPrø Rally is also perfect for your everyday commute. Style the white sneaker with red accents with a classic shirtdress or wide-leg pants for casual Friday. Once you've finished the week's work, you can create an effortless weekend outfit with a graphic T-shirt, relaxed jeans, and a shearling-trim trucker jacket. With the GrandPrø Rally Sneaker, you'll feel comfortable and chic — no matter how you style it.
Scroll down to shop the GrandPrø Rally Sneaker below.