Claire Foy's Style Combines The Menswear Trend With A Feminine Twist
Charles Sykes/Invision/AP/Shutterstock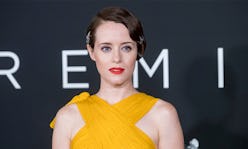 There's something about Claire Foy's style that's both inherently feminine and menswear-inspired. The actor has sported a parade of collared-shirt dresses in recent weeks, and each look has struck the perfect middle ground between structured (think: tailored silhouettes) and soft (Foy has a thing for floral prints and warm hues). Take one look at Foy's wardrobe and you'll be convinced to rework your own style — it's that good.
The spotlight has been on the 34-year-old over the past year, thanks to her role in The Crown (for which she won an Emmy Award for Outstanding Lead Actress in a Drama Series). In recent weeks, Foy has attended a string of red carpet events and press appearances to promote her latest film, First Man, alongside co-star Ryan Gosling.
Constantly sporting boyish collars and two-piece suits with fancy bows and florals, Foy gives the current menswear trend a feminine flair. The shirt dress has become her signature item, with crisp, straight collars, button-up fronts, A-line fits, and bowtie waists. This almost precisely describes the outfit Foy wore to the Today Show on Oct. 2: a pink, long-sleeve shirt dress with an all-over pattern. She accessorized with a pretty jeweled headband to hold back her trademark pixie haircut.
Before that, at a First Man press conference in late Sept., the actor channeled menswear vibes in a slinky eggshell shirt dress belted at the waist with pockets and rolled-up sleeves. Again, Foy glammed it up with hair accessories — this time, pins adorned with golden leaves.
It's all about feminine details when it comes to Foy's classic shirt dresses. The polka-dotted, collared dress she wore on the red carpet of the 75th Venice Film festival featured a plunging neckline, while the vintage-inspired tweed dress she wore during her previous appearance on Today in Dec. 2017 included a collar that was decorated with a dainty black bow.
When The Crown actor chatted with Jimmy Fallon on The Tonight Show last year, she wore a black mini dress with a beaded Peter Pan collar, then on the very same day, she sported a black shirt dress with extra-large buttons to discuss her series at Build Studios in New York.
Needless to say, Foy has found a way to work menswear into her feminine look time and again. She typically opts for fit-and-flare cuts, cheerful prints, and feminine embellishments, whether built into her signature shirt dresses or worn on the side (hint: hair accessories). And while the actor might have pioneered the look long ago, shirt dresses are becoming a big trend this fall — Carey Mulligan, Sienna Miller, Meghan Markle, and Katie Holmes are all on board.
Inspired by Claire Foy's go-to look? Shop The Zoe Report's favorite Foy-inspired pieces, ahead.
Shop The Look