The Outfit Blake Lively Can't Stop Repeating Is The Perfect Investment For Fall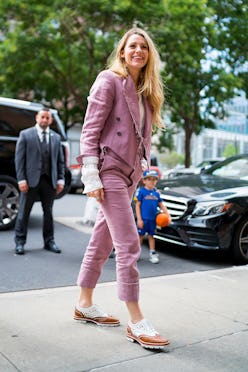 While you've been spending the last few weeks of summer in your typical warm-weather uniform (think: breezy skirts and lightweight dresses), Blake Lively has been wearing suits. The A Simple Favor actor has walked the sweaty streets of New York City in not one, not two, but six pantsuits. And while a matching suit may feel like a risk, a close look at Lively's best looks prove there's a good reason she's relied on the formula so heavily: Suits are an easy, streamlined outfit worth transitioning into fall.
Matching separates have always been a part of Lively's repertoire — just last year, the actor was photographed in statement pieces like a Ralph Lauren houndstooth pantsuit and a 1960s-inspired set by Brandon Maxwell — but, of late, suits have become a defining part of her wardrobe. A quick glance at the trailer for A Simple Favor reveals an uncanny resemblance between Lively's new style and that of her character, Emily Nelson. Lively has been inspired by the role for months — in May, the actor deleted her entire Instagram feed in a move that served to promote the film (out Sept. 14).
Whether it's a character study or not, Lively's formula is the perfect solution for the transitional season that's officially upon us. Below, four Lively-approved suits and shoppable looks that are well worth the investment.
The Velvet Suit
A thick, velvet suit doesn't exactly scream warm-weather friendly, which is why Lively's outfit serves as the perfect inspiration for fall. Instead of layering two jackets like Lively (unless, of course, you're willing to sweat), you can opt for one classic velvet blazer and high-waisted, tailored pants in this rich oxblood hue.
The Plaid Suit
After Lively documented this eccentric look by Roland Mouret on Instagram, a fan responded to the actor with some unsolicited advice. "I say this with so much love and respect for you babe, please hire a stylist or fire the one you're currently with," the user commented. In typical Lively fashion, the actor offered a clever response: "Alas, I've tried to fire @blakelively so many times. But that b*tch just keeps coming back. She won't leave me alone."
The lesson? Don't be afraid to experiment with print and color. To recreate Lively's look with a light hand, gravitate toward a plaid suit with no more than two statement colors (like this hunter green and mustard yellow combo).
The Pastel Suit
Arguably the most toned-down of the actor's pantsuits was a loose-fitting, dusty-mauve number by Vivienne Westwood. Think of this look as an easy entry point into the world of suiting: Pair a pastel-colored blazer and pants with a relaxed button-up and you've got yourself a casual — but polished — outfit à la Lively.
The Striped Suit
Consider this striped pantsuit a two-for-one: Layer it with a white, lacy top for an elevated look like Lively's, or dress it down with a t-shirt and sneakers — you've got options, here.