How To Determine If That Luxury Bag Is Worth The Investment, Thanks To This New App
Shutterstock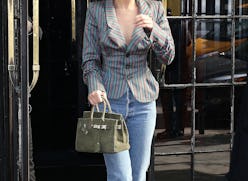 Think of that one luxury It-bag you've always dreamed of owning. It could be a classic, like the beloved Birkin bag from Hermès or the Chanel 2.55. Or perhaps something a bit trendier like Dior's revived Saddle Bag or the Fendi Baguette. If the stress of the splurge is part of what's kept you from making the purchase, perhaps it's better to think of it like stock or real estate: as an investment. With the introduction of a new tool Clair, luxury reseller Rebag makes it easy to know instantly if a potential new purchase will be a cherry or a lemon when the time comes to sell.
Rebag spent the last five years building and developing the new tool that allows you to see the resale value of any luxury bag in seconds — including ones that are already in your closet. Clair, which stands for the Comprehensive Luxury Appraisal Index for Resale, uses data and insights gathered from thousands of customer purchases, along with selling patterns and industry trends to help create an algorithm that prices bags not just for those who use Rebag, but for anyone looking for a standardized price across the industry. Basically, with whatever bag you're hoping to buy, Clair will help you figure out its true value.
"With more and more consumers contemplating the resale value of their luxury purchases, we've created a taxonomy that provides a more transparent way for consumers to shop more wisely," Rebag's CEO and founder Charles Gorra notes via press release. "We've spent years gathering data and analyzing the luxury handbag market. Clair is our way of sharing that knowledge with the world."
So, by Rebag's findings, what serves as a worthy investment? At the top of the list are designs from Hermés, which according to the cumulative data, tend to retain value up to almost 90 percent. While the resale price of each style or bag itself may vary depending on factors like color, quality, and exclusivity (with some pieces actually increasing in value over time), the luxury french house is generally a safe bet. Clair uses a set of codes and condition grades to establish common pricing reference for shoppers, resellers, and curious bag owners around the world. This not only can help clarify the real price of what you already own, but can also help you to understand a bag's value, and if a potential purchase may be overpriced.
Below, shop a handful of current high-value styles from Rebag, and download the Clair app for added insight into the world of luxury handbags.