Cindy Crawford's 10-Minute Makeup Routine Includes This $9 Mascara
Victor Boyko/Getty Images Entertainment/Getty Images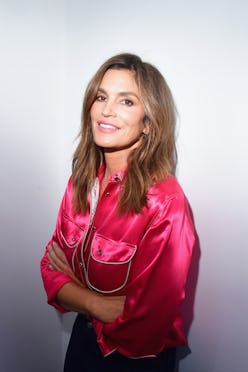 It's always a treat when ageless beauties spill their secrets and coveted product recommendations, and Cindy Crawford's exact makeup routine just hit the press. The iconic supermodel who dominated runways and glossy covers of the '90s shared her entire morning beauty routine with Vogue, and she revealed a little-known secret: She's not above a drugstore bargain.
Read more: The Facial Benefits Of Ice Globes, A Spa-Inspired Beauty Tool
Unsurprisingly, the 53-year-old is a big proponent of skin care, first prepping her complexion with a hydrating serum from her own brand, Meaningful Beauty, followed by a quick, de-puffing facial massage with Glycelene's Golden Ice Globes. While admitting she's never been skilled at doing her own makeup, Crawford demonstrates her "basic face," featuring NARS concealer, Chanel powder, and a budget-friendly mascara.
"What I love about this is the brush," the model shared as she coated her upper lashes with Maybelline's Lash Stiletto Mascara. "I have really long lower lashes, so unless I'm on a shoot, I just keep it on the top."
Crawford's go-to mascara is loved by many for its super-lengthening formula, which is loaded with vitamin B-5 to condition and soothe lashes with each coat. And although the model's routine is chock-full of high-end products (like the aforementioned $125 Ice Globes), Lash Stiletto rings in at a very reasonable $9.
"Sometimes, to be honest with you, I do learn tricks from Kaia," the mother of two shared of her 17-year-old lookalike, revealing the young model demonstrates tips and tricks from YouTube tutorials, like how to nail the perfect cat eye. When Crawford isn't attempting Kaia's skillful looks, the mother of two sticks to a less-is-more vibe.
"I have found as I've gotten older, I wear way less makeup," she shared. "But that also means taking care of your skin is more important." Aside from skincare, she vouches for cream-based makeup products, explaining they gel more smoothly with aging skin than their powder-based counterparts.
Check out the video at Vogue for even more beauty secrets spilled by the American icon, and consider adopting a few of her faves into your own beauty bag. You can shop her key products, below, including Crawford's go-to mascara, which doesn't even require a trip to Sephora. Just pay your local drugstore beauty aisle a visit, and snag the supermodel-approved product for under $10.
Shop The Products