Christy Dawn Made A Boiler Suit That's Actually Summer-Friendly & You Need It Now
Courtesy of Christy Dawn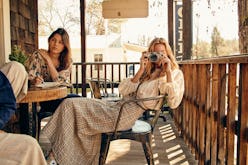 If you've been waiting for the perfect pieces to wear on the warmer days of spring, you needn't wait any longer — Christy Dawn's spring 2019 collection has officially arrived. Just in time for the beginning of the season, the brand, which encapsulates the essence of a bohemian California lifestyle (and is also widely loved by fashion girls everywhere), has launched a selection of breezy styles that can be worn for nearly every occasion.
The collection consists of 10 pieces, which range from whimsical sundresses that exemplify the meaning of spring to structured basics such as a pair of trousers and a top to act as everyday staples. Inspired by vintage silhouettes and made with deadstock fabric, allowing for a more sustainable approach to its production, this collection will inspire you to spend all of spring outdoors, basking in the sun. And depending on how you style them, they can be dressed up or down, making them the perfect option to take your casual looks from day to night.
In this collection, you'll find the brand's signature Dawn Dress in its classic white and blue floral print, among a handful of styles in new prints such as the Basil Dress in a green floral and available for $318, which features a V-neck, a smocked bodice, and bell-shaped sleeves.
Another quintessential style for the season is the Claire Dress, a $278 sleeveless dress that showcases a low back with a tie detail, lace trim, and ruffles at the shoulders. If you prefer a solid rather than floral prints, the Cicely Dress, which comes with front button details, long sleeves, and contrast piping, is available in a beautiful robin's egg blue and will cost $288.
Once you've piled up on romantic dresses for the season, it's time to think about your wardrobe basics. Add a pair of lightweight linen trousers to your warm weather wardrobe with the Mara Trousers, available for $238. Style them with the the floral print Emmy Top for an effortless ensemble. Or, if you want a more formal look, wear the ankle-length plaid Ida skirt in plaid with the Faye top, which has a plaid texture and puff sleeves for an on-trend prairie-inspired appeal. Of course, if you want to own the boiler suit trend this season, you certainly can't go wrong with the Penny Jumper, which Christy Dawn made summer-friendly with a linen-like fabric.
Whether you plan to attend any weddings this spring or summer, or simply want a handful of easy, go-to staples for the seasons, this collection has just what you need — so keep scrolling to shop the best pieces now.
Shop The Collection