Christy Dawn Finally Added Denim To Its Lineup Of Pretty Vintage-Inspired Pieces
Courtesy of Christy Dawn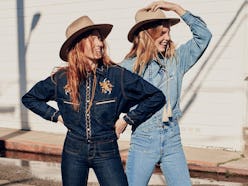 Anyone who's gone through the process of finding the perfect pair of jeans can tell you that it takes time and patience. With so many factors to consider, like the overall fit, level of stretch, or type of wash, the hunt for your dream jeans can be exhausting. However, it could also result in the pair you consider a prized possession. In other words, it's tough — but Christy Dawn's denim collection is about to make it easier.
The Los Angeles-based fashion brand — known for its bohemian and vintage-inspired dresses made from deadstock fabric — has been slowly but surely expanding, with pieces such as lightweight coats and knitwear debuting last December. It was only a matter of time before the sustainable clothing brand would take on denim. Using the same method with deadstock fabric for its jean collection, Christy Dawn has launched a chic set of old-school pieces reimagined for today.
The collection launched with a vintage-inspired style known as the Lula Jean, $178 — but they aren't like your standard high-rise straight-leg pair. Instead, the Lula Jean is a form-fitting cropped kick-flare style with patch pockets on the front and back. Available in two washes — a deep indigo Dusk and a light Moonlight — this high-waisted pair of jeans can be styled with a plain white T-shirt and a polished pair of strappy minimalist sandals or your favorite sneakers.
If you want to take your summer ensembles to the next level, consider adding the Sailor Jacket, $268, to your wardrobe. Also available in Dusk and Moonlight, this cropped denim jacket was designed to be worn with the Lula Jean, as well as anything else you plan to wear this season. According to the product description, the Sailor Jacket was inspired by "everyone's favorite vintage denim jacket," and features intricate embroidery on the front and back panels. The jacket also showcases unique contrast stitching along the buttons, collar, and cuffs of this everyday jacket to give it a western touch.
Scroll down to see Christy Dawn's debut denim collection below. Hands down, it'll be one of the easiest (and most stylish) ways to make your summer wardrobe more sustainable.