Christy Dawn's New Coat Is The Minimalist Piece You'll Be Wearing Well Beyond Winter
Courtesy of Christy Dawn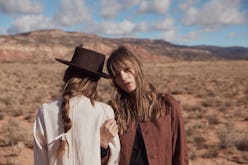 Real talk: Now that Christmas is just around the corner, with New Year's Eve well on its way, you can't ignore the reality that the dead of winter is officially here (and in some areas, the weather won't allow you to, either). In which case, you've probably already stocked up on your heavy-duty winter coats and jackets for the year. That said, for the days when you feel like that down parka is just a little too warm or you just want an extra layering piece you can wear throughout the year, Christy Dawn's coat collection has what you're looking for.
Leave it to a cool girl-approved brand like Christy Dawn to master the art of light winter jackets. The Los Angeles-based brand may have gotten its start a short number of years ago creating chic and sustainable bohemian-inspired dresses from deadstock fabrics (which have been leftover from larger fashion houses), but if its debut coat collection — which is already beginning to sell out — is any indication, the brand is only getting started.
Christy Dawn is introducing its coat collection with the Clara Coat. Available for $218, this effortlessly chic coat is made from deadstock linen fabrics and will fulfill all of your minimalist dreams. Inspired by the traditional painter's coat, this stylish outerwear piece features a button-up front, patch pockets, and tab details on the cuffs of the sleeves for added interest.
Already want to add this to your closet? The Clara Coat has already sold out in its Sandstone and Natural colors (which you can get on the waitlist for, should these versions come back in stock), but is still available in Noir and Adobe. Bottom line: Get it while you still can.
With the lightweight feel and clean design, you'll be able to wear this coat for nearly anything, year-round. Wear it now, for the frigid temperatures, and add it between the layers of knitwear and a long wool coat. Or, wear it over a long dress buttoned all the way up for a simple layering look that will feel perfect for the wintry season. Once the temperatures begin to creep up and you start to feel the warmth again, throw the linen piece on, fully open, when you need a bit more coverage to go with your favorite lived-in jeans and an easy T-shirt — there's no going wrong here.
Ready to start shopping for the perfect year-round piece? Scroll down to shop the Clara Coat now. It'll add a level of relaxed polish to any outfit in a matter of minutes.