Chrissy Teigen Just Nailed A Super-High Ponytail — And Now It's Your Turn
Frazer Harrison/Getty Images Entertainment/Getty Images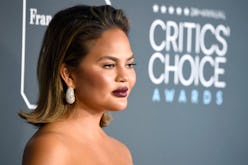 Comedian, model and cooking extraordinaire Chrissy Teigen has had quite the week. Between engaging in an all-out Twitter war with the president and surprising unsuspecting patrons at a West Hollywood Shake Shack, the 33-year-old sparked major buzz on social media over the course of a few days. Promoting the finale of NBC's Bring the Funny on Tues., the mother-of-two took to Instagram Stories — Chrissy Teigen's ultra-sleek high ponytail on full display — to let her 25.7M followers in on a little secret: "We're about to head to Shake Shack on Santa Monica Boulevard, so if you want free burgers and gift cards, come to Shake Shack right now," she revealed.
Dressed in a light-wash denim jumpsuit to storm the fast food chain, Teigen joined staff behind the counter to try her hand at burger-making. The cookware designer got down and dirty while assembling bacon cheeseburgers and dishing them out to shocked customers, and her pristine high ponytail stayed in tact throughout the entire event. A sleek switch-up for the Sports Illustrated alum, the polished pony offered extra oomph to the moveable utilitarian one-piece, showcasing ovular gold earrings and glowy makeup.
Unlike Teigen's go-to beachy waves and messy updos, the smooth and shiny hairstyle was a sultry look for the model, offsetting her casual outfit with a dose of glossy shine. Wrapping her blonde locks around the base of the pony to keep a hair tie from peaking out, Teigen completed her look with a face-framing wave hanging down on one side. The carefully crafted style was fit for a pop star, but didn't read over-the-top, thanks to her Teigen's casual ensemble.
The next time you're in the mood to dress-down, a sleek high ponytail is a no-fail solution to spruce up your look. The polished hairstyle looks ideal paired with a low-key outfit, like a t-shirt dress or a basic ribbed tank and boyfriend jeans, so shop The Zoe Report's essentials for achieving the look, and channel Teigen no time.
Shop The Look