Chrissy Teigen's Go-To Vacation Bag Is Surprisingly Affordable
Matt Winkelmeyer/Getty Images Entertainment/Getty Images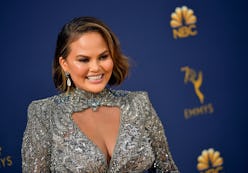 Why can't we all go on vacation as often as Chrissy Teigen? Cannes, Ciprani, Paris, Portofino, and now Thailand — life for this mom of two is just one long holiday, it seems. We may not be able to retrace her world travels, but we can certainly recreate her vacation style. Chrissy Teigen's basket bag is one way to (literally) hold onto summertime.
Every die-hard Teigen fan knows her mother is from Thailand, which is why the model and her family are visiting the Southeast Asian country. She posted an Instagram photo of her uncle, who she says is a tuk tuk driver in Korat, also known as Nakhon Ratchasima, a city northeast of Bankok.
John Legend and Teigen took little Luna out to the busy Korat market for a sampling of crickets and other insects — a local delicacy — and may or may not have kept the leftovers in her woven basket bag from Sensi Studio.
She then posted an Instagram photo of her carrying the tote on another day, this time in a toy store at the mall. In the photo, the model is wearing a flowy, wine-colored jumpsuit by Caravana made entirely of cotton with a convenient halter neckline. The perfect vacation outfit for the perfect vacation bag.
Teigen accessorized with a darling braided headband, a thin belt wrapped around her waist, hoop earrings, and a long necklace. Her bag looked to have been already stuffed with goodies for the kids.
The 33-year-old's bag of choice was Sensi Studio's $315 Rectangular Basket — a cross between a wicker tote and a picnic basket — with a big bamboo handle. It's currently sold out, but a similar one with colorful pompom straps is still available (and for less!).
The beachy straw accessory screams summertime and fellow fashion girls like Vanessa Hudgens, Rosie Huntington-Whiteley, and Emma Roberts have been carrying similar ones lately. Luckily, there's still time in the season to follow their lead.
Shop The Look