Chrissy Teigen Got Botox In Her Armpits & Is Very Excited To Wear Silk Again, According To Instagram
David Livingston/Getty Images Entertainment/Getty Images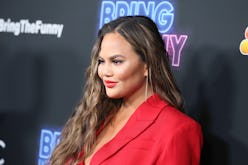 That silky slip dress has been hanging in your closet all summer, just waiting for its day in the sun, but you can't bring yourself to put it on because you sweat too much. You're not the only one. Chrissy Teigen just got Botox in her armpits and documented the entire thing on Instagram.
If you're anything like the model, you've cast off silk completely just to avoid the humiliating sweat rings that form under your arms halfway through the day. You see people walking around in those short-sleeved cotton crop tops constantly, but those are out of the question, too.
How's a girl supposed to maintain her style if half of summer's trends are off-limits? Thanks to Teigen's authenticity on social media, we know that celebrities sweat, too. No amount of fame can make you immune to Mother Nature, but a good plastic surgeon can certainly keep armpit sweat at bay.
The 33-year-old posted a very real video of her getting underarm injections via her Instagram Story on Tues. Teigen tagged Dr. Jason Diamond and wrote in the caption, "Botoxed my armpits. Truly best move I have ever made."
Botox is, in fact, a popular remedy for severe sweating. The neurotoxin that is injected paralyzes muscles — hence why people who've had it in their foreheads have trouble frowning — which, in turn, deactivates your sweat glands, says Dr. Daniel Maman, Board Certified Plastic Surgeon with 740 Park Plastic Surgery in New York.
"What happens is that the sweat glands are surrounded by muscle fibers and when you sweat, the muscle fibers contract and essentially milk the sweat glands," he told The Zoe Report. "If you paralyze these muscle fibers, then you inevitably stop the sweating process."
If you have more of a problem with clammy palms or a perpetually perspiring forehead, you can get injections there, too. Underarm Botox can vary in cost depending on how much is needed (in other words: how much you sweat), Dr. Maman says, but it's typically between $1,000 and $2,000 per session, which lasts about three or four months.
Sweat-prone people might consider making it an annual pre-summer ritual, while others might opt in just before a big event. In any case, underarm Botox is a fairly low-risk, no-big-deal kind of process, as you can tell by Teigen's nonchalance as she casually reclined in the operating chair and said, "that really isn't anything" after her doctor pulled the needle away. Afterward, she went home and made tacos.