I'm Nervous About My Wedding Day — But Not For The Reason You'd Think
JP Yim/Getty Images for Kenra Professional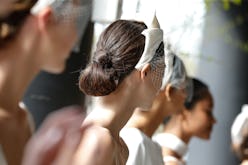 I never was the girl that had all of my wedding details planned out by the age of 10. But now that I'm engaged, planning a wedding and finalizing details are at the forefront of my mind. I knew that organizing two families in one place would be chaotic at best, but my main stressor isn't planning-related at all. I'm more worried about sweating on my wedding day, and it's starting to overshadow all of the excitement.
I know that sweating is a regular function of our skin and bodies, but lifting my arms to reveal huge pit stains is super embarrassing during the warmer months. And even when it's chilly outside or when I'm not overheated, my underarms are still damp. It's a problem that's persisted for years. I thought that maybe I just needed to switch my deodorant or apply more product, but that didn't stop the sweat, either. I even switched my shower soaps to lavender and natural-based scents, in search of something gentle... and I started exfoliating my pits with my favorite sugar scrub in an effort to wick out the dampness. But despite all of my efforts, my sweat still persisted.
"A major cause of excessive sweating is hyperhidrosis, a condition that impacts over 37 million U.S. consumers," Dr. Jennifer Chwalek, a board-certified dermatologist at Union Square Laser Dermatology explains to me. "It's defined as sweating that disrupts normal activities. Episodes of excessive sweating can occur at least once a week for no clear reason and can effect social life or daily activities. For some, hyperhidrosis symptoms are so severe that it becomes embarrassing, causing discomfort and anxiety."
I know that sweat is a part of human nature — and some may be more laissez faire about it than I am — but now that the details have been set for my September beach wedding, the panic of perspiring in my wedding dress is in overdrive. So after years of internal embarrassment, I finally sought help from a dermatologist to weigh my options.
Since I work in beauty, I'm aware that Botox helps with a multitude of issues beyond anti-aging prevention. But for some reason considering this treatment for my underarm issues didn't cross my mind. "I recommend that brides have botox injections one to two weeks prior to their wedding," Dr. Marnie Nussbaum, a New York City dermatologist, tells me. "Usually 50 units on each side."
Another option is miraDry, which is a treatment that eliminates odor and sweat glands in the underarms. "It non-invasively targets the area where the sweat glands reside and safely destroys them while simultaneously cooling skin for added comfort," Dr. Chwalek says. "What's also great about miraDry is that the treatment is customized to each patient's underarm. The miraDry hand piece is placed directly to the skin, lining up with a temporary template applied to the underarm area." This treatment should begin about three months prior to your wedding day.
I haven't decided on what my plan of action is just yet, but I feel comfortable knowing that there are options out there. I don't have to perspire heavily through the dress of my dreams, and I can party the night away without being self-conscious about any over-the-head dance moves. And when I greet my friends and family with a warm hug, I don't have to worry about anyone being soaked in my sweat. Which is my own personal version of happily ever after.
In the meantime, these are the products that keep me feeling fresh.