Chriselle Lim Has A New Collection & It's Surprisingly Affordable
Courtesy of Chriselle Lim Collection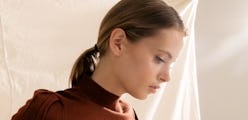 Chriselle Lim has a very distinct style. Since the early days of her blog The Chriselle Factor, she's stood out for her minimal, sophisticated clothing, and she's continued to hone in on her distinct aesthetic since launching in December 2011. Fortunately for her one million-plus Instagram fans, in early 2018 Lim brought her fashion sense to a line at Nordstrom in a collaboration with the label J.O.A (and then another at Shopbop in May). Now, following the success of her initial foray into design, the super-influencer is branching out on her own with a stand-alone label — The Chriselle Lim Collection — which will be exclusively sold at Nordstrom starting Sept. 13.
The new line, which runs from $59-$189, is filled with cozy fall essentials with a nod to Lim's signature sleek style. Most notably, the collection features a wide variety of trendy sweaters like cardigans and turtlenecks, all of which fall under the $100 price range. Details include tortoiseshell buttons and ruched tie-fronts, which add the trendy-but-timeless style to the pieces that Lim has perfected.
Of course, the 20-piece collection isn't just sweaters. There's also a striped jumpsuit, a few flowing wrap trench coats, and even a matching plaid skirt and blazer, all of which can be mixed and matched to dress up or down depending on the occasion.
As for why she chose to create these specific pieces, Lim wanted to create clothes that anyone with a busy lifestyle could easily throw on and feel good about — which makes perfect sense given she's made a name for herself as both a successful entrepreneur and a mother.
"This collection was inspired by everyday working women," said Lim in a press email. "Whether it be women who wake up every morning to go to work, to chase their dreams, or simply on the search of something greater. This collection was inspired for women to feel strong, confident, and like a boss."
Lim broke the news of the new collection on her Instagram account on Aug. 2 and has been teasing it to her impatient fans ever since (the initial announcement garnered over 600 comments and upwards of 22,000 likes alone). Since then, an Instagram account has also been started for the collection, which boasted over 16,000 followers prior to the line even launching. Given the success of her first collaborations and the buildup to this new line, this collection is sure to be met with equal enthusiasm.